EU supports transparent, accountable and fair justice system in Ukraine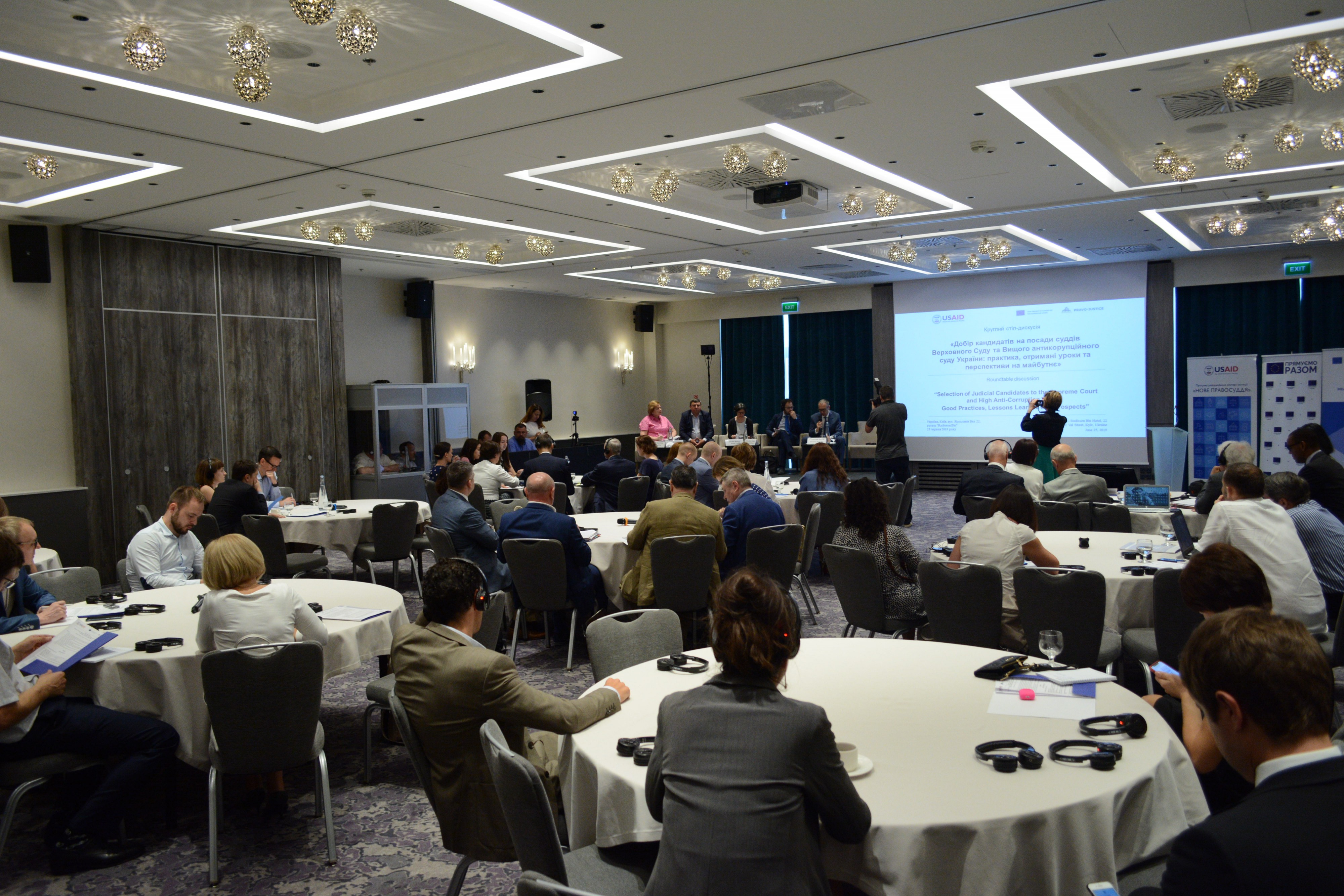 Ukraine launched a process of the systematic judiciary reset by way of the selection of new justices to the Supreme Court and establishment of High Anti-Corruption Court of Ukraine. EU Project Pravo-Justice has assisted the Ukrainian authorities to determine progress and problem areas in the judiciary selection in light of the best European and international standards. Expert team of the Project together with USAID New Justice Program and representatives of judicial bodies, civil society discussed the good practices, lessons learned and prospects of the selection, on June 25.
"Selection of justices to the Supreme Court and High Anti-Corruption Court is an important step forward for Ukraine to bring legal certainty to the society. It is crucial to deliver results demanded by the Ukrainians, defend and bolster the rule of law in your country. This selection was made possible due to tremendous efforts from the judicial bodies, international experts and the civil society. We believe that these courts will deliver long-awaited and meaningful justice", Fabio Della Piazza, Head of Political Section of the EU Delegation to Ukraine, commented.
EU is supporting these processes through the Project Pravo-Justice, which helped to develop legal professional knowledge tests and case studies, assisted in conducting psychological testing, and promoted participation of the civil society in the judiciary selection and evaluation.
The new approach and procedures applied by the High Qualification Commission of Judges in the selection of new justices to the Supreme Court involved assessment of legal professional knowledge and skills as well as testing of personal, moral and psychological qualities. Interviews with each of the candidates were live-streamed online. Also, the civil society and international oversight were injected into the new selection system by creating institutions – the Public Integrity Council and Public Council of International Experts, acting alongside other judiciary governance bodies in the selection process. Their involvement was of crucial importance for assessment of integrity of judicial candidates and judges.
The judiciary overhaul continued with the selection of judges of the new High Anti-Corruption Court with participation of Public Council of International Experts. A complete reset of the judiciary is a distinctive experience by European or international standards and comparative practices. Such selection has not yet been applied across the entire public sector, not to mention the judiciary.
The reform of the judiciary in Ukraine is a long – term process which has not been finalized yet. A lot has been already done, however, there is always an area for improvement. Ukrainian people must have effective right to a fair trial and guaranteed access to justice what cannot be achieved without judges in courts. EU will continue its support for Ukraine to achieve this goal.