Reconciliation and resolution of a problem (or dispute) rather than a long trial: what mediation is and why it is useful for Ukrainians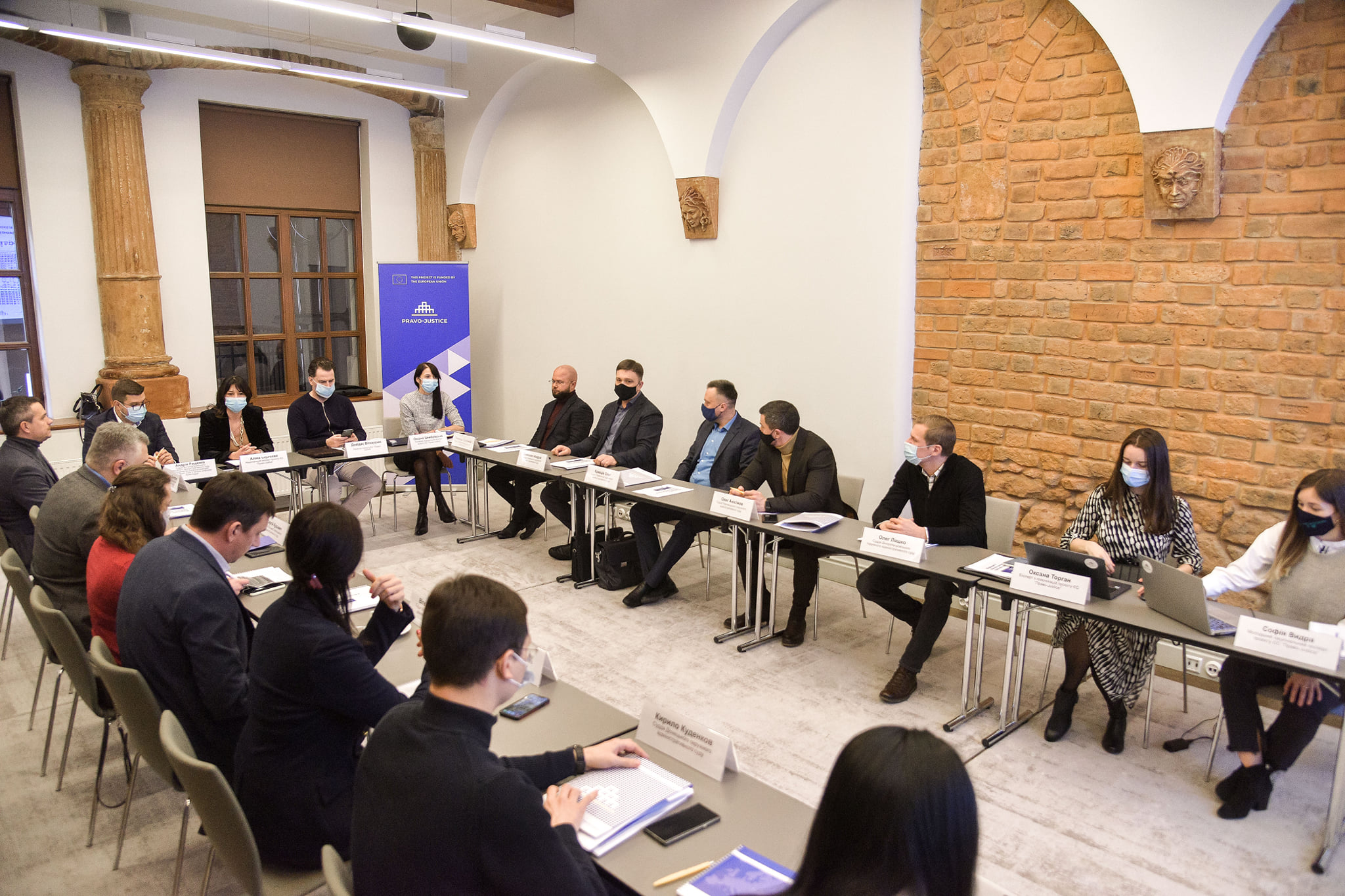 Accelerating resolution of business disputes and preventing lengthy litigation. Increasing chances for employees and partners to collect debts of bankrupt enterprises. Avoiding exhausting divorces and inheritance quarrels. Finally, returning the responsibility for resolving the conflict to the citizens themselves. All this will help effect pre-trial reconciliation or mediation. As part of judicial reform in Ukraine, it is planned to promote and widely use this dispute resolution tool. Experts say that mediation will save citizens time and money, reduce the stress caused by conflict and bring Ukrainian judicial system closer to the European one.
Mediation has been in Ukraine for 26 years. There are thousands of experienced mediators working in the country. However, such alternative opportunity to resolve disputes is only known in narrow professional circles. Meanwhile, in Europe, pre-trial conciliation is extremely effective, says Dovydas Vitkauskas, EU Project Pravo-Justice Team Leader.
"In Northern Europe, for example, the lion's share of disputes is resolved through mediation or similar alternative dispute resolution methods," said Dovydas Vitkauskas. "In Finland, in particular, in civil proceedings only 2.5% of cases filed with a court result in a full-fledged trial and judgment. More than 90% are resolved via alternative methods, with mediation being not the only method, but key one."
Mediation guarantees the result, says EU Project Pravo-Justice Team Leader. After all, mediation is not aimed at finding out who is right, but at getting a solution to a problem that both parties agree on.
"Firstly, disputes are resolved voluntarily through mediation," said Dovydas Vitkauskas. "The parties themselves choose to follow this path. This is a confidential approach, it respects various legal issues arising disputes, which are often crucial in ensuring parties' financial interests. This also comes at a reduced price, resolving a conflict through mediation is cheaper than litigating a dispute, and, ultimately, it resolves a dispute."
In Ukraine, draft law on mediation has been drawn up and adopted in the first reading. It is designed to give a new impetus to developing this alternative tool, emphasizes Dovydas Vitkauskas.
The draft law is a framework one, says Oleksandr Banchuk, Deputy Minister of Justice of Ukraine. It determines who should be the mediator, in which cases this tool should be used, it covers the principles of mediation, the parties' rights. The law will encourage citizens to use pre-trial conciliation: after all, if the parties reach an agreement through mediation, the respective party will get 60% of the court fee refunded, says the Deputy Minister.
"An important novelty is that a person who paid the court fee earlier gets part of the court fee refunded," says Oleksandr Banchuk. "This is a kind of incentive for people to negotiate even if a lawsuit has already been filed. In general, the law provides for introducing a decentralized model of mediation, with no over-regulation in this area, which will also foster its development."
Mediation makes business disputes resolution both cheaper and much faster, experts say. After all, litigation often takes months or even years. In addition, even if a party wins the case, the next challenge is to enforce the judgment. If mediation is used, recovery of debts or expense reimbursement is sure to take place, and it will be done on time.
"Often people get court decisions, but their needs remain unmet," said Andrii Ryshchenko, coordinator of Dnipro Regional Justice Reform Council (RJRC), judge of the Dnipro Regional Administrative Court. "Mediation is a compromise, so instead of court proceedings and frequently ineffective court enforcement procedures, the parties will be able to get a joint solution to their problem through mediation. The state will soon encounter the question of whether to rescue the company or to close it down because of the pandemic. And the path to salvation can be searching for a compromise through mediation: to postpone debt repayment, to conclude a restructuring agreement."
Mediation is not a panacea, but this procedure can be used in most disputes: from divorce and division of property of spouses to disputes between business and the state. Political responsibility of local governments to voters for the decisions made encourages them to look for new ways of dialogue with society, says Andrii Ryshchenko. Mediation can be such a tool. Taking into account the wishes of the residents of the district where the construction is carried out, arranging landscaping, providing social housing – this is just a small list of issues in which mediation can turn the conflict into cooperation.
The use of mediation is also feasible in criminal cases, experts say, especially when there is a minor crime committed by a minor.
Mediation is also effective in cases where there is an emotional component, experts say. These cover all family conflicts, labour, medical, inheritance and other disputes. First, mediation provides an opportunity for the parties to lessen emotional strain of the conflict, to discuss all aspects of its arising, including all grudges and complex and awkward issues, said Svitlana Serhieva, Vice President of Academy of Mediation of Ukraine, lawyer, mediator, member of Odesa Regional Justice Reform Council. Secondly, an opportunity to maintain confidentiality during the proceedings will enable the parties to avoid public disclosure of personal matters or to ensure that commercially sensitive information is preserved.
"An important advantage of mediation as a way to resolve conflicts is that the parties are able to maintain business (partnership), friendly, family, personal relationships. We need to face the truth, - Svitlana emphasizes, - going to court only exacerbates the conflict. Where there is a winning and a losing party, it is impossible to talk about maintaining the relationship. Currently, both citizens and businesses lack awareness of mediation, and therefore they do not use the potential of this conciliation procedure. However, I am sure that it is a matter of time."
Judges are waiting for the law on mediation and popularization of the tool, says Andrii Ryshchenko, coordinator of Dnipro Regional Justice Reform Council (RJRC), judge of the Dnipro Regional Administrative Court. After all, now the workload of judges exceeds the prescribed one by 40-120%. The use of mediation will reduce the number of cases and allow enable meeting deadlines.
"Currently courts are so overloaded with cases," Andrii Ryshchenko states. "Many judges have resigned or do not have the mandate to adjudicate, so instead of standard 600, more than 1,000 cases per year are pending before each of them. There are tens of thousands of cases in the courts filed by pensioners and Chernobyl victims on which there is already a judgment of the Supreme Court in model cases. And this is evidence that the state has failed to fulfil its obligations before the people. In such cases, mediation should be conducted to restore confidence in relevant institutions. In addition, there are fairly simple cases that would not require judicial intervention if the parties heard each other. These are, for example, cases of obtaining public information. Actually, if at least 10% of cases were resolved through mediation, this would significantly unload courts and would speed up the proceedings."
"Unloading courts will contribute to a fairer resolution of disputes," added Dovydas Vitkauskas, EU Project Pravo-Justice Team Leader. "Nowadays, because judges are overloaded, most cases are 'tailored like one size fits all skirt.' It is unacceptable. When judges have free time, they will be able to pay more attention to each case."
The law is not enough to spread the use of mediation, says Anna Lysko, director of the Lviv Mediation Center and a member of the Lviv Regional Justice Reform Council. A broad information campaign is needed to promote this dispute resolution tool. Announcements with information about mediation should be posted in courts. The new tool can be offered in public self-government bodies, social services, free legal aid centers, and courts.
"It is very important for authorities to understand that mediation is and to be able to offer it to people," comments Anna Lysko. "For example, we cooperate with Lviv social services, provide them with mediation services free of charge, so accordingly their representatives know that they can refer people to mediation to us. If this was done in all localities, mediation would be more popular. Also, if the prosecutor's office or the police knew what mediation was, they could also offer people this tool at preliminary stage."
According to draft law "On Mediation", a mediator can be any person who has a higher education and has completed basic training in the field of mediation. This is an open profession, experts say. But it is lawyers who should be leaders in bringing the value of mediation across to society. They have most contact on dispute resolution with people and can convey to them the value and need to introduce a new alternative dispute resolution tool, says Dovydas Vitkauskas, EU Project Pravo-Justice Team Leader.
Promoting mediation as a way to resolve conflicts will have a positive impact on society, experts say. Mediation is a transparent way of making decisions that will help to foster business, thus making Ukraine more investor-attractive. And most importantly – the new tool will change the very philosophy of interaction between people. If the parties used to be divided into losers and winners in court, now a win-win strategy will become possible.
Author - journalist Oksana Viter for the EU Project Pravo-Justice