With the support of "Pravo-Justice" Project, the Ministry of Justice presented the findings made after rapid monitoring of justice in a wartime situation
On July 18-19, there was presented a report after rapid monitoring of justice in a wartime situation was conducted by the Ministry of Justice of Ukraine with the support of EU Project "Pravo-Justice", the Ukrainian Bar Association of Ukraine and other partners. The monitoring is aimed at identifying conflicting, declaratory and outdated norms that must be urgently addressed from law-making perspective during martial law.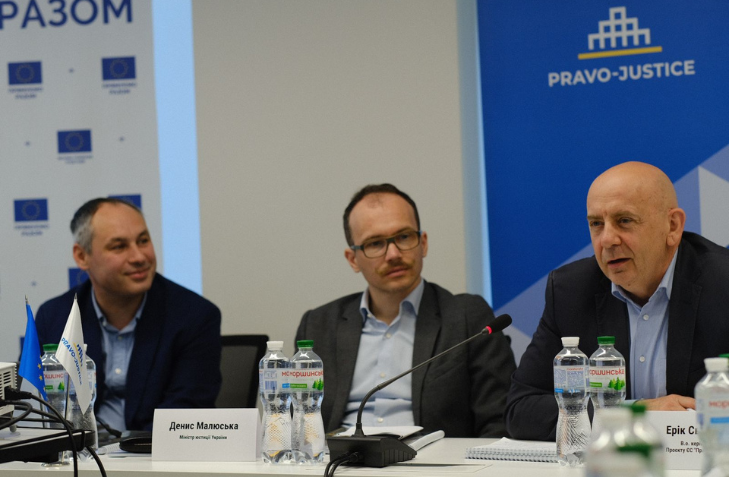 "I extend our gratitude to our partners from the Pravo-Justice Project who support all crucial activities we undertake, including analysis and monitoring of legislation. Russia's full-scale invasion on the territory of Ukraine is a great tragedy for every Ukrainian. At the same time, from the viewpoint of the justice sector, this is immense experience that no other country in the world has. This is a matter of considerable interest to our partners – how we designed the justice system so that it managed to withstand such an emergency, what has been changed and what still needs to be done. Legislation and international mechanisms pertaining to war are outdated, not detailed, not relevant in the lay of the land today, so it is interesting how much we had to improve them in the rule-making work. It is obvious that a lot has been achieved. However, it is a must to take a "helicopter view" in time so that to see where some gaps can be found and understand what should be improved. In fact, this is precisely why rapid monitoring of justice in a wartime situation was carried out," said Denys Maliuska, Minister of Justice of Ukraine, in his opening remarks.
"Because of the war, Ukraine found itself in an extremely tough situation. This has an immediate impact on the justice system operations and the legislative process. It was necessary to take urgent decisions in the first weeks and months of the war. However, it is now important to come back to a systemic approach. Therefore, the time is ripe now to conduct such monitoring with the engagement of a wide range of stakeholders. The fact that we have gathered here today shows that Ukraine is gradually overcoming difficulties and challenges, getting closer to victory," emphasized Eric Svanidze, Acting Team Leader of EU Project "Pravo-Justice".
For two days, representatives of the Ministry of Justice, the Supreme Court, judicial and bar communities, national experts of EU Project "Pravo-Justice", representatives of the Regional Justice Reform Councils and other stakeholders discussed the challenges in legal regulation in the areas of the judiciary and administration of justice, criminal justice, enforcement, forensic examination and bankruptcy in wartime situation.
In total, 18 challenges in legal regulation have been analysed. Each of them is set out in detail in the monitoring report as well as in the presentations available at the following links:
When analysing each problem, its legal framework, jurisprudence of national courts and the European Court of Human Rights, research materials, international experience and statistical data were examined. Based on the findings, suggested solutions have been proposed.
The next step should be to draw up pressing amendments to laws and other regulatory acts in areas rapidly requiring legal regulation during martial law.
"I want to thank the Ministry of Justice and our long-standing partners from EU Project "Pravo-Justice" for this initiative. Please rest assured that the dedicated Committee on Legal Policy is always ready to cooperate. If there are certain recommendations to improve the legislative amendments that have been introduced, I have no doubt that these developments will be analysed by the dedicated committee and representatives of the judiciary in order to introduce respective amendments that will make our judiciary more effective even at such challenging times", emphasized Andrii Kostin, Chair of the Verkhovna Rada Committee on Legal Policy.
According to Oleksandr Banchuk, Deputy Minister of Justice, the Ministry is open to further discussions and proposals regarding legislative amendments that are required: "Our task is quality legal regulation. This will mean that we have better conditions for justice operations and better protection of our citizens' rights."
The issues not covered by the monitoring report but discussed in consultations with stakeholders will be included in the annual monitoring for 2022.