The story of Oleksandr who broke down because of losing relatives but found the strength to raise nephews
In European countries, imprisonment is an exceptional measure of punishment. After all, its negative impact on mentality and behavior of anyone who has ever been behind bars has long been proven. For the most part, people who have committed minor crimes and who do not endanger the lives and health of others are got back on track in a community where offenders serve non-custodial sentences.
Such a convict may be required to undergo rehabilitation to get rid of certain addictions, they may be assigned free work for the benefit of the community, may be barred from communicating with a certain group of persons, and conditions may be determined for violation of which they may be imprisoned.
Probation is an alternative to imprisonment. This is a chance for a person who has committed an offense not to become a criminal in the eyes of the community but to correct his mistake in the eyes of the community, to compensate for the material and moral damage. With the professional support of probation staff, social services and activists, a hostage of his fate serves the sentence imposed by the court, but does not lose socially useful ties, stays in the community and family, learns to see his mistakes and correct them and finds new friends and comes back to law-abiding life.
In Ukraine, this practice was introduced in February 2015 after the Law "On Probation" was adopted. Since 2017, after the decision of the Cabinet of Ministers under the leadership of the State Institution "Probation Center" in all cities and districts probation bodies are established that not only provide control over the enforcement of sentences without imprisonment (as once criminal executive inspections did), but also via using modern international practices and tools identify the reasons that motivated a person to commit a crime and help to provide comprehensive lifestyle change assistance to create an environment in which the offender will seek to live without committing new crimes. Authorities, non-governmental organizations and people concerned who become probation volunteers help in this endeavor.
In the joint special TSN.ua project with the Probation Center and EU Project Pravo-Justice we are telling success stories of socialization of convicts. Journalists met such people in Kivertsi, Kharkiv, Bila Tserkva and Chernihiv to learn about the role of the Probation Center in their lives, personal achievements and plans for the future which not so long ago could have been nullified if they were imprisoned.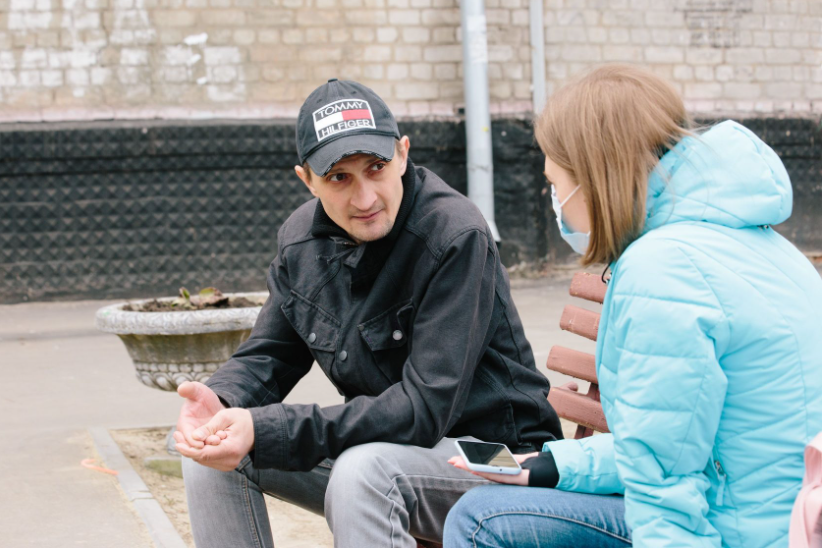 The story of Oleksandr who broke down because of losing relatives but found the strength to raise nephews
Oleksandr Manifatov has been convicted several times. He learned about behind the bars routine and is now registered with the Probation Center and serving his sentence in the community. Due to the loss of relatives, he "got hooked" on drugs, but for the sake of saving his nephews, he dramatically changed his life.
Oleksandr is 38 years old. He is a car repair mechanic, convicted, drug addict. Last year, he was again indicted for possession and possession of drugs. The man had repeatedly been sent to the colony and wanted to change his life, but after returning to his district where he could find a "stash of drugs" at every step, he failed. Last time, given all the circumstances of life, the judges decided to give him a chance to prove his desire to live differently and with the support of probation to get rid of bad habits and addictions. Now he got a job and works as a gardener, returned to where he was once happy and is raising two nephews.
Happy childhood and criminal activities
We sit down to talk on a bench near the house where my husband now lives. He is neatly dressed, friendly and sincere - you can't say at once that Oleksandr had a past with drugs. But he is overly nervous. He does not sit in one place, constantly rubs his hands. A smile appears on his face as he recalls his childhood and carefree years. They had a large and friendly family. But when he was in the 1st grade, his parents divorced and his elder sister and he was brought up by his mother.
Whether it was a grudge against his mother for the "loss" of his father or the desire to become an adult as soon as possible "pushed" the boy to live independently immediately after 9th grade. Oleksandr Manifatov is a car repair mechanic. He studied at one of Kharkiv vocational schools which he entered after secondary school. As soon as he graduated from vocational school, he immediately got a job of a car repair mechanic. He earned pretty good money.
When he was 20, Oleksandr met his beloved. After seeing each other for a long time they started living together. She moved into his rented apartment in Kharkiv.
"I loved her so much and she loved me. We were like two peas from the same pod. We even went to work together. That's how inseparable we were. We started arranging our lives. We lived together for 8 years and were ready to move further. We wanted children. We renovated the apartment, bought new furniture. And even bought a dog," says a Kharkiv resident.
It seemed to Oleksandr that this would always be the case, but unfortunately, the people he once considered friends added "one drop of poison infects the whole tun of wine"… He began to communicate with friends who involved him in criminal activities. Even now he can't explain why this happened because he had a job, he was in relationships. He says, "along for the ride." "Along for the ride" everyone was punished: two Oleksandr's friends were sentenced to 5 and 6 years in prison, and he then served a probationary period.
And then there was a terrible tragedy that put a big end to his dreams of a happy family future. In broad daylight in 2008, Oleksandr's girlfriend committed suicide. "I'm not a doctor, I can't say the exact diagnosis, but something was wrong with her psyche, that is what experts said. She killed herself," Oleksandr recalls, muffled, holding back tears. "I don't understand why she did this to me… I had no idea how to live. Sometimes I would walk across the road and my friends stop me and say, "Where are you going?" And I'm like a zombie. I didn't even care if I would be hit by a car, if a brick would fall on my head or if I would fall into the hatch. I didn't care. I did not want to live".
Until then, Oleksandr did not drink or smoke at all, but after that he began drinking alcohol. He drowned his sorrows, but it didn't help. He wanted to escape from thoughts about his beloved, about what happened at least for a while. Such oblivion came from a dose of drugs. First there were pills and then injected drugs.
At the age of 28, Oleksandr was again sentenced to 3 years of probation period for possession and use of drugs. He spent about 6 months in custody. Loss of sense of life, a criminal environment and a lack of understanding of how to live without a loved one - all played a role and in 2012 Oleksandr was again sentenced to 5 years in prison for a drug-related crime. However, on the basis of the Law of Ukraine "On Amnesty" he was released from serving his sentence.
Finally, Oleksandr was "crippled" by the sudden death of his elder sister. It all happened last summer. On the way home, the woman was hit by a car. The doctors sent her home to lie down. "How could X-ray fail to show the consequences of an accident: damaged organs, broken ribs? In just two days, she withered away," says our interlocutor, barely holding back his tears. This loss is still so painful both for him and for his mother who are now raising two children of the deceased.
Pills, methadone, heroin
In Oleksandr's life, misery loved company. The desire to quell the pain of losing a loved one cost him too much - drug addiction from which he is now trying to finally get rid of.
At first, the man recalls, he bought an inexpensive drug in pharmacies. Ordinary codeine-containing pills are actually supposed to treat cough, but in large doses they become drugs. It is not so easy to buy these pills because you need a prescription for this, but some pharmacies in Kharkiv sell them from under the counter: "Whoever searches, will always find. In fact, almost every second person uses something. When you already live in this, you begin to see it from the eyes, behavior, conversation with other people that they are already addicted to psychotropic drugs."
Over time, psychotropic drugs no longer satisfied Oleksandr. Then the man started using "heavy drugs" - dangerous methadone and heroin. Drugs are usually obtained through so-called stashes.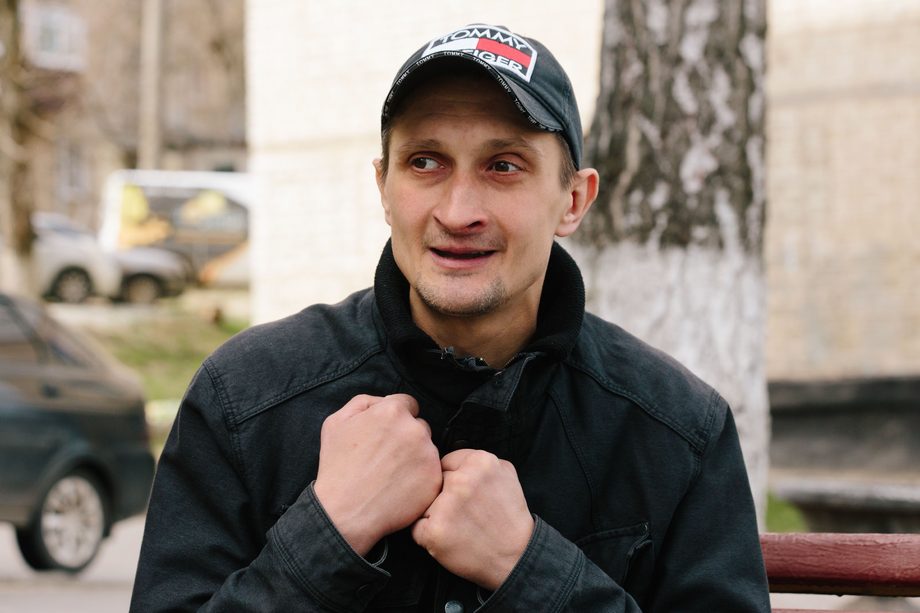 You don't have to go far. Ordinary flower beds and curbs. In such places there may be drugs covered with earth. The dose can be glued on the bench. It can be anywhere. You transfer money to an e-wallet, and then you get a photo on the phone where to look for the drug.
"Methadone, heroin, salts - dear me! Methadone is generally a medicine, the strongest synthetic medicine against heroin. In general, there was opium, recently - seeds. And it was all so heavy… In such quantities ... And every single day… I used to try to set things straight, but I just went down like a ball," Oleksandr says sadly.
The blow to that ball was everything - memories of a loved one, shared photos and my mother's tears. "Of course, my mother saw everything, but what could she do? Of course, at first, she tried to moralize me, but physically she could not interfere. Because of this, I became even more frustrated," says our interlocutor.
… Last time Oleksandr was detained in early 2019. He suspects that his friends turned him in to the police. They were also drug addicts. "There are no friends among them. There are only selfish moray eels that want to bite off a piece of you, and more. For ordinary people, friends will support in a difficult moment, talk, help when needed. And those on the contrary will only play along to ask at some point, 'Hey, do you have some money?' Treat a friend. I used to consider them friends because I didn't even think about who was who."
Probation instead of prison
Introduction of probation system in Ukraine was preceded by the study of best practices of such a system of punishing offenders in 14 countries, including Canada, Norway, the Netherlands, Denmark, France, Romania, Latvia, Lithuania. In Ukraine, 5 years ago, in February 2015, a respective law was adopted to introduce this tool in our country.
When working with individuals in conflict with the law, probation inspectors identify the reasons that motivated or led a person to committing crime and involve the community, authorities and NGOs in addressing the person's problems and needs to prevent new offenses. Probation staff work with convicts who, according to a court decision, are serving sentences in a society under probation (including those who serve unpaid work for the benefit of the community) as well as people accused of committing crimes and convicts preparing to be released from prison.
Probation is a combination of supervision and social work with offenders to help them come back to the law-abiding path. Probation programs which are widely used in the activities of probation bodies are aimed at changing procriminal thinking and overcoming the aggressive behavior of probation clients, preventing bad habits and forming their life skills.
Every year more than 100,000 people are registered with the probation authorities. 98% of probation clients successfully pass it and do not commit new crimes while serving their sentences. More than 5,000 convicts are registered with probation bodies subordinated to the branch of the Probation Center in Kharkiv Region. Most are convicted of theft and robbery. A significant percentage of those are people convicted of drug offences.
Oleksandr Manifatov is one of those currently assisted by probation inspectors. In the latter case, he was convicted under two articles at once - "illegal manufacturing, buying, storage or transportation of drugs, psychotropic substances without the purpose of sale" and "organization or maintenance of places for illegal use, manufacturing of drugs." He was sentenced for 4 years of imprisonment, but this sentence was replaced with 2 years of probation. According to the judges, despite the crime committed, Oleksandr does not pose a threat to society and can set things straight without imprisonment. So, he was given a second chance and was sent to probation.
There is always a way-out
When a convict is registered with the probation body, probation inspectors conduct a so-called risk assessment of reoffending - they determine his willingness and desire to change, attitude to the offense and factors that may lead to new crimes.
Oleksandr talked about life and family. With tears he spoke about his girlfriend and his sister who are no longer alive, with regret he told about his mother, what she had to go through. He also talked about his nephews, whom he now helps to raise. But he could not explain what bothered him the most, did not give him peace…
I asked about his job. Oleksandr replied that he only works part-time. After learning more about the story of this probation client, that he used to work full time and does not mind being officially employed now, I offered to help him with employment.
"I was getting help from the body where I am now registered (local unit of the Probation Center - ed.). At first we talked a lot. Probation officers, apparently, worried about my fate, asked about my family, dreams and work. When they found out that I did not have a permanent job, they offered me employment assistance. I agreed," says Oleksandr. "I used to work at various workplaces, I was even store manager. And according to my specialty I worked at a trucking company, mended roofs and did renovations," the man lists his jobs.
However, problems with the law as well as the desire for quick money for the next dose were causes of looking for a new job.
With the assistance of probation unit which cooperates with regional employment center, Oleksandr was offered several vacancies. "I was offered several job options. I could choose, can you imagine. Probation staff put in a good word for me to employers. And I understood that I had no right to let these people down (probation staff - ed.). When choosing a job, I paid more attention to work schedule than the salary. After all, now I have someone to worry about and someone to hurry to… So I chose a utility company. Something more to my liking. No retraining was required. I mastered everything pretty quickly on the spot. I was warned that I would work at junior rank positions for some time in the beginning because I had not worked in this field before. After a while, they will promote me and will give me a pay rise," Oleksandr shared.
However, in reality it was not so easy and fast.
I told Oleksandr that probation could help him find a job, but he must take it seriously. I called the company where community work is done by people failing to pay maintenance money who are registered with us and warned that Oleksandr has a criminal record. The next day Oleksandr went there and then told me that he liked everything.
However, he was collecting documents for a very long time. More than a month, probably. With the military, there were problems too. He did not say there that he had a criminal record, he was ashamed of it. The military commissariat began collecting papers for service. We helped here as well, and he finally got a formal job," says the inspector.
For more than six months, Oleksandr has been working for the specialized utility company Zelenbud. Now the man is a gardener. Sitting on a bench, he points to one of the trees and then says, "Do you see those balls? They are called mistletoe. This is how trees get sick. A high truck comes and with its help we cut it all off. Then there is a tractor with a crusher. We cut all the branches into small pieces and cart them away." At the same time, Oleksandr smiles and rubs his callused hands. Despite all the difficulties, he is glad that he finally got a job. He says that hard physical work did not frighten him at all and does not frighten him now.
The most difficult thing, according to Oleksandr, was to get used to working hours. He has to be there at 7:00 am, so the man wakes up at 5:30 am. "I was happy that I would change my circle of friends. This is my place. That I will do something good for people. If before I only took from the city, now on the contrary - I had the opportunity to do something good for the city. I would never have thought before that I would work in housing maintenance and repair administration, this is not my specialty at all. These yellow vests (smiles - ed.). Now I am a gardener, but I can also do the work of a janitor. Now I'm not ashamed of it. Previously, I could not even think that I would go in such a way and clean up the garbage… Now I treat it as a normal job. I get paid for it. And someone has to do it" says the man.
Oleksandr's attitude towards those whom he previously considered friends also changed. "If an acquaintance of mine who deals with drugs tells me, 'Sanya, what are you doing?' Come with me, let's hang out," I'll tell him for sure: "Listen, friend! I have a stable job, I have a salary card. I have money that I don't spend on poison. I can buy sneakers, a cap. And look what you're wearing. Do you have 200 hryvnias in your pocket? What are you up to? You wander around and with dirty hands get salt "stashes". I'm sorry, friend, but we drifted apart. We have different paths." I can refuse now. I can say, "I don't want to, I won't, I'll go home." There was no such thing before," the convict says.
Oleksandr Manifatov was received quite warmly at the workplace. He says he doesn't feel like he's "out of sorts." Although all colleagues know about the man's past, they still treat him with understanding. At least that's what Oleksandr himself says, "There was no hint that I, well… And we made a good team and found a common language. There is a foreman, the boss and two craftsmen manage everything".
I was so surprised that the boss could take a rake and rake the area with us. If necessary, she can sweep or plant flowers ... Yes! This is normal. She does not have a "crown on her head." We can do one job together. It's cool! ... And I never refuse to do what I am told to do - I do not want to let down Karyna Serhiivna (inspector of the probation body - ed.). She talked to me and believed me. It is thanks to her assistance that I have this job.
Oleksandr says that the probation service helped him not only with his work, but also with his psychological adaptation. "I never expected anyone to care about my fate. Who is she to me, this Karyna Serhiivna? I don't know her. She is neither a relative nor a friend of mine. However, we talked as if we knew each other well. Not the way a police officer communicates with a suspect, but like real friends. And she understood so well what I needed. Even I could not figure out where to start, so as not to find myself behind bars again, and she made it so clear and understandable.
Now once a month Oleksandr Manifatov goes to probation inspectors, talks about his ups and downs. Probation inspectors and psychologists as well as staff of partner organizations involved by probation staff in social and educational work with convicts help with his problems.
The man says that he can discuss any situation with a psychologist and hear useful advice, "I go to register and meet with a psychologist. She will help with all your worries and tell how to overcome them in an accessible way. Very nice woman. I used to lack the patience to even feed my nephew. She explained how to gain endurance, how to find an approach to the little one, how to make it interesting for him ... And it works!... I can now talk to her about what I plan to do, whether it will be right to do it one way or another in a situation," says our interlocutor with delight.
… While on probation, Oleksandr got rid of another problem - drug addiction. He no longer uses drugs and probation officers help him with that.
Oleksandr came back to his mother to help her with her nephews and to stay away from his friends, who are still "use the needle." This step minimized the temptation to fail and come back to life with drugs, says Karyna Zahrebelna.
Now Oleksandr goes not only to psychologists, but also to various classes. For example, he attends lectures at the International Anti-Drug Association. People who have been able to quit drugs tell their success stories and support those who are still struggling with the problem. In early spring, Oleksandr and several other convicts and probation inspectors went to the theater for a play. In such a way convicted people get rid of addictions and learn to live differently. Live without crime and drugs.
Over the years, probation has proven the effectiveness of non-custodial sentences for certain categories of offenders. Statistics also testify to the effectiveness of the new approach to punishing convicts. Thus, in 2019, 8319 convicts and 997 offenders were registered with the probation authorities in Kharkiv region, and only 198 reoffended.
So, probation is a complex of different measures. They are carried out for convicts who, according to a court decision, have the opportunity to change their lives and prove their usefulness to the community with the support of probation staff instead of a real term behind bars. At the same time, a person does not lose touch with society, can have a job and therefore continues to pay taxes to the state. And it is many times cheaper than a convict serving a prison sentence.
Probation is not an opportunity to avoid responsibility for a crime committed.
When receiving a sentence in the community, each probation client has certain responsibilities and conditions for serving the sentence for violation of which the court may change the sentence and send the offender to prison.
Oleksandr for almost 10 months of being registered with probation took the opportunity to avoid being behind the bars and proved that he is changing for the better. There have been many changes in his life and he appreciates what he has.
Oleksandr's current life
Oleksandr, 38, now lives with his mother and two nephews in a block of flats on the outskirts of Kharkiv. He has recently moved to his mother's flat. Before that, he lived in his own apartment at the other end of the city which is associated with memories of the most difficult times. He has not been using drugs for 10 months. It is not a very long time, but for Oleksandr it is quite a lot.
Together with his mother, Oleksandr is raising two children of his late sister. The girl is 16 years old, the boy is 8. Constant child care and work do not allow a man to deviate from the right path. He says, "I'm afraid to fail, because the drug can wait. It is very difficult to give it up. What saves me is that I work all day and come home to spend time with my sister's kids. I do not have the opportunity to go to rest. It is necessary to take nephews from school (when there were face-to-face classes), to feed them, to do homework with them. Sometimes I help my mother to cook something."
Oleksandr does not have a family or children of his own. But he completely switched to nephews. "The little one is so wonderful. He already calls me dad. He only sees me and immediately runs to me. I already know that I have to catch and hold him. He loves me. And I love him! No one else is there to bring him up anymore because my mother is not as strong as she used to be… I am happy that my hands are full."
I do not idle. In general, I wanted to radically change my life. I'm so tired of drugs, all this running around… I see that my mother has lost weight, aged, turned gray because of my addiction. Only when I got a great responsibility - two children I realized how difficult it was for her alone to raise me and my sister. I understand that I have to help my mother and never upset her again.
The example of Oleksandr's friends, many of whom have already died, is a deterrent and a signal of danger. "Drugs are very dangerous. Every time you play, like in roulette, 50 to 50. When you are in it for a long time, you always use more and never less. All the time you lose a little more… This is "a little" is that a person can fall asleep forever. I honestly have no friends left. Everyone died. Overdose… - in Oleksandr's eyes there is pain and sadness, and some anxiety in the voice. - I was given a parole - two years. They look if I will commit a crime or not. They look at how I behave, what kind of person I am. If I slip somewhere, they will put me in prison for at least 4 years. That is, 4 years in prison are already there. Plus a few years for another crime. And it keeps me going. I don't want to go to prison, there is nothing to do there. I sometimes remember those years and all the time I think, "If ... I could have had a different life" ... I would like to change so much. And now I'm changing, trying to change. And not to make new mistakes".
According to Oleksandr, the atmosphere in the family has also changed.
"I noticed that the number of quarrels decreased. My mother "nags" me less and I understand and support her in many cases. My life has become calmer. I have money which I always lacked. Why? Because everything went to drugs. As soon as I had a little money, I used it on drugs. Although I didn't wear dirty clothes before, people now look at me and say, "Sanya, you look normal, we're happy for you." Secondly, I am glad that I changed the circle of communication. It is pleasant to communicate with smart and good people, you learn to live and to solve problems from them instead of running away from them", adds convict Oleksandr.