Project experts presented European practices in fight against cybercrime during International Autumn Law School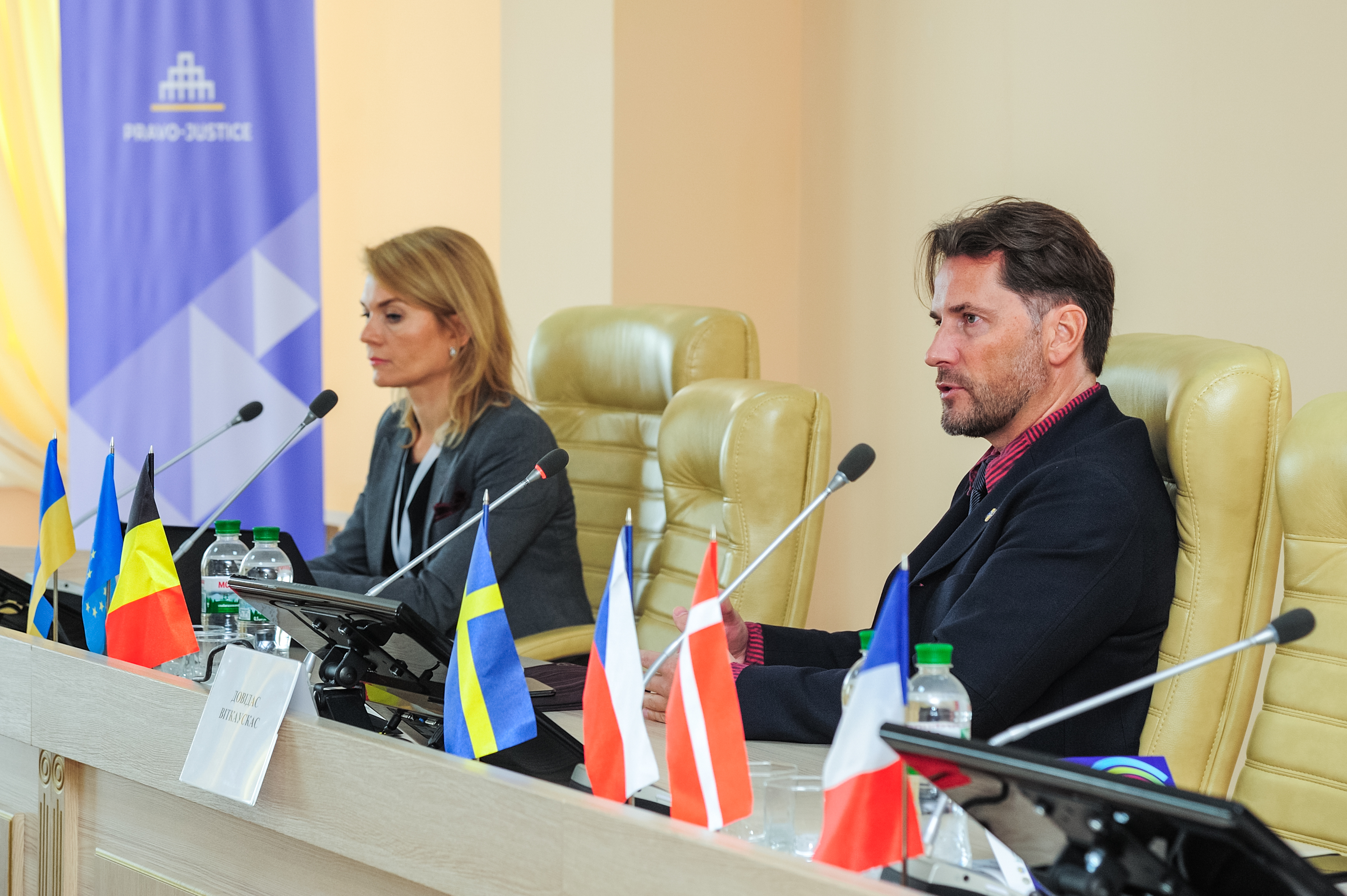 On 23-25 September, International Autumn Law School "Fighting Cybercrime in Accordance with European Standards of Justice" was held as part of IV Kharkiv International Legal Forum.
The classes at the School were conducted by international and national experts of EU Project Pravo-Justice, practitioners in the field of cybersecurity and law, representatives of government agencies responsible for the implementation of new standards in the field of cybersecurity. The Autumn School curriculum included lectures, workshops and tutorials on principles and values of European legal tradition.
40 participants – senior law students and practicing lawyers – were selected to take part in training. They learned how the Ukrainian cybercrime system works and studied European best practices. Participants of the School obtained contemporary knowledge and skills on prevention, counteraction and investigation of cybercrimes, reform of justice sector in Ukraine.
Yurii Barabash, Vice-Rector for Academic Affairs of Yaroslav Mudryi National Law University, greeted the students and speakers of the school, "The university already has experience in conducting law schools which provide an opportunity to apply innovative approaches in education. In particular, a similar project was implemented several years ago together with Estonian and Lithuanian colleagues. It was dedicated to the use of cutting-edge technologies in law. Its success inspired us to conduct cybersecurity school. Cybersecurity is now a trend in law enforcement which is hard to overestimate. The main task for the students of this year's school, as far as I see, is to gain new knowledge and skills, which, in my opinion, will be useful to all legal professionals regardless of the field of activity."
Dovydas Vitkauskas, Team Leader of EU Project Pravo-Justice, Lithuania, said, "The crisis associated with the COVID-19 pandemic has not created, but rather has brought to the forefront problems that existed before, in particular, related to cybersecurity, insufficient regulation of personal data protection, new corruption risks, inefficient public administration and more. These deep-seated challenges to culture, governance, clarity and predictability, leadership, and institutional capacity now pose an even greater threat."
The School was moderated by Mariia Avdieieva, Research Director of the European Expert Association. She reminded that most demanded are specialists who know the latest trends in both law and IT. The transition to digital technology and cybercrime poses new challenges for legal training system. Lawyers need a deeper understanding of modern European approach to criminal justice in the digital field and fight against cybercrime.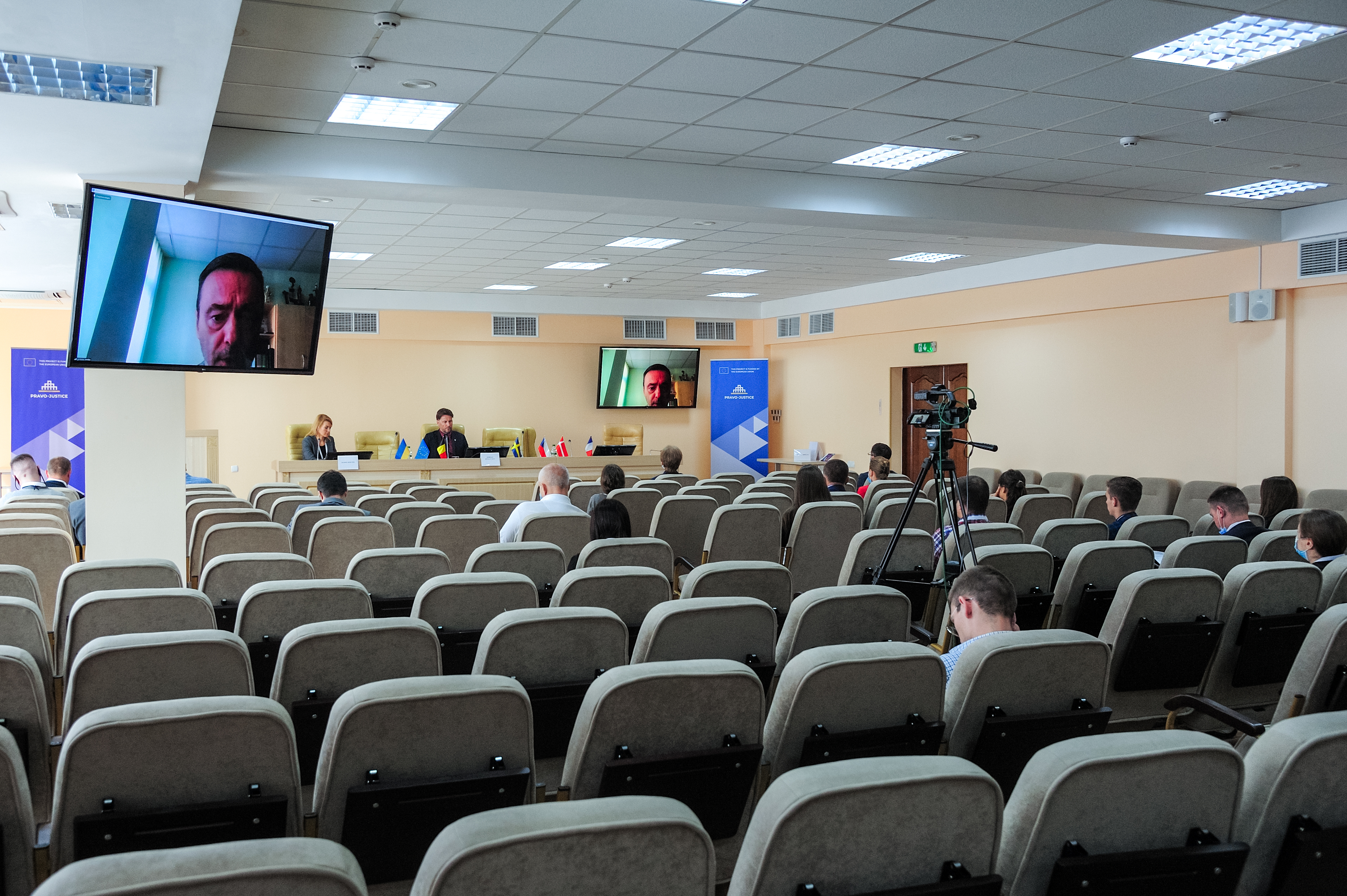 The school started off with a lecture on Cybercrime and European Law by Gintaras Švedas, Professor of Law at Vilnius University, Lithuania, International Expert of EU Project Pravo-Justice. Professor Švedas spoke about European standards for the legal qualification of crimes in the information sphere. The expert gave an example of Lithuanian experience, the Criminal Code of which defines 26 types of crimes in cyberspace.
EU Project Pravo-Justice experts Ivar Tallo, Estonia and Valerii Bakal explained how state agencies and judiciary bodies function in the context of digitalization, told about the latest trends in the development of e-justice in Ukraine. Participants of the School found out the main directions of further digital transformation in Ukraine, trends in the field of electronic services and open data.
Tarvi Martens (Estonia) and Roman Savchuk delivered profound presentations of e-justice and electronic digital signatures. Much attention has been paid to the principles of electronic identification in cyberspace.Thomas Kreussmann (Germany), Professor at the University of Graz, spoke about legal assessment of cross-border crimes on the Internet as well as the observance of human rights when proving them. The second day of the School was dedicated to the analysis and qualification of actions of cybercriminals and international criminal hacker groups.
The third day was full of lectures by Nataliia Kovalko, Oleksandr Shevchuk and Dmytro Liushun, e-Justice experts of EU Project Pravo-Justice. Students obtained practical information on approaches to personal data protection in the EU and Ukraine, the peculiarities of the use of electronic digital signatures and directions for reforming the justice system taking into account existing cyber threats.
The school ended with a solemn ceremony of awarding students with certificates with participation of Yurii Barabash, Vice-Rector for Academic Affairs of Yaroslav Mudryi National Law University. Organizers of the school: European Expert Association and Yaroslav Mudryi National Law University with the support of European Union Project Pravo-Justice. The event took place in the Research and Library Center of the National Law University.
Photos from the School are available at the link.