With the support of EU Pravo-Justice Project, online consultations were held on involving foreign experts to investigate war crimes in Ukraine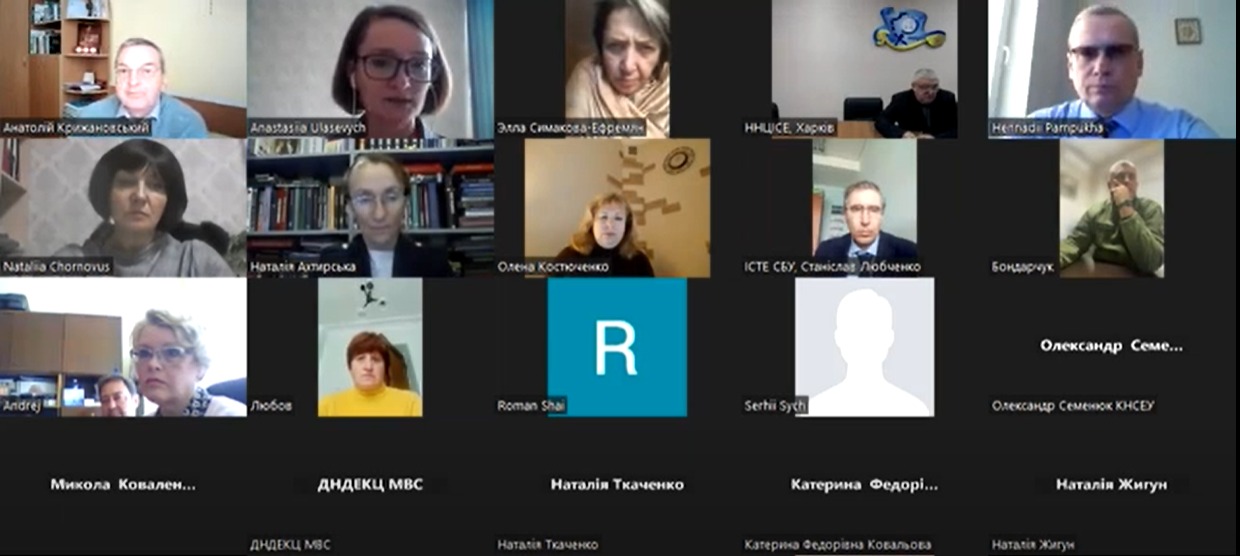 The EU Pravo-Justice Project supported online consultations dedicated to involving foreign experts to investigate war crimes in Ukraine. The Ministry of Justice of Ukraine conducts consultations in the course of monitoring how legislation is applied in the field of forensic expert activity. The event was attended by local court judges, law enforcement officers, state and private forensic experts, advocates and academia.
Anastasiia Ulasevych, state forensic expert covered the importance of involving international experts to investigate, in particular, war crimes committed by Russia on the territory of Ukraine in course of a full-scale military invasion.
"The testimony by international experts can strengthen the evidence base while establishing an international tribunal as to Russian Federation. Moreover, involving international experts can be considered as an element of an awareness-raising campaign to inform the global community of the scale of war crimes committed by the Russian Federation on the territory of Ukraine," said Anastasiia Ulasevych.
The online consultation attendants shared their own experience of involving foreign experts in conducting forensic examinations and drew attention to cooperation-related current conflicts in legislation and institutional peculiarities. They mentioned that involving private forensic experts is particularly acute. Government forensic experts can be engaged under international cooperation agreements.
"The mechanism for engaging private foreign experts and paying them must be streamlined. Questions arise as to their insurance. We don't have a single regulatory act on using international experts' opinions in Ukrainian courts," said Hennadii Pampukha, Director of the Independent Institute of Forensic Examination.
Olena Kostiuchenko, Associate Professor of Justice Faculty, the Kyiv Taras Shevchenko University, also mentioned that it is necessary to liberalize and modernize the legislation.
"Right now, the number of war crimes being committed is extremely large. To deal with them, forensic examination is required. Will our forensic expert system handle such a load? We may have to turn to international experts for help. And for this, it is necessary to liberalize the legislation; this will make it possible to engage such experts," said Olena Kostiuchenko.
The online consultation attendants discussed how to attach expert examinations done abroad to enforcement proceedings case file.
"All examinations are conducted as per the current legislation of the respective country. The only thing that needs to be done is to make a request for international legal assistance of obtaining expert opinions. After that, these documents are officially translated into the state language. As a result, the court should acknowledge them as proper and admissible evidence," said Oleh Baulin, Head of the Research and International Cooperation Department, Kyiv Scientific Research Institute of Forensic Examination.
Gabriele Juodkaite, EU Pravo-Justice Project International Expert, Director of the Lithuanian Forensic Centre delivered an intervention on Lithuanian experience of involving foreign experts in national criminal proceedings.
"In this regard, Lithuanian legislation is very similar to Ukrainian legislation. In order to engage a foreign expert, there must be an agreement on cooperation signoff of the Prosecutor's Office. We have had experience when state Lithuanian experts provided forensic examinations abroad free of charge since experts from other countries also provided their services to us free of charge," said Gabriele Juodkaite. She added that it is not always necessary for an expert to travel abroad. Sometimes it is acceptable to engage an expert online.
"If the expert has to go abroad to take actions in course of criminal proceedings, the costs related to it are covered by both parties: the National Institute sending an expert covers the travel expenses and per diems are covered by the receiving party," added Gabriele Juodkaite. "Involving private experts is a more complex issue subject to various regulation in different countries."
In turn, Oleh Nazarov, representative of the All-Ukrainian Independent Forensic Union, drew attention to the fact that it is necessary to enshrine in legislation Ukrainian experts' obligation to take an oath.
"The oath must be taken when starting the profession. The oath is then to be attached to all forensic examinations. This will indicate that the expert has been warned of criminal responsibility by the institution that issued his/her qualification. The matter of whether his/her actions are legal is automatically put to rest in all cases. Then there will be no need to sign a warning of criminal responsibility for illegal actions in course of the examination before each examination," Oleh Nazarov suggested.
In course of online consultations, the attendants paid considerable attention to matters related to preserving documents within a forensic expert's purview during hostilities and emergency situations.
In particular, Yurii Mukhin, head of the HR Department of the National Research Centre "Institute of Forensic Examination named after Bokarius" and Stanislav Liubchenko, Head of the Centre for Forensic and Special Examinations of Ukrainian Research Institute of Special Equipment and Forensic Examinations of the State Security Services Ukraine shared their experience of evacuating important documents in the first days of the full-scale Russian-Ukrainian war. They also shared their vision that it is necessary to develop a mechanism for destroying forensic objects if it is not possible to quickly evacuate them to a secure place.
"If, for example, the enemy is near Kyiv again tomorrow, it is not clear on what basis forensic experts can destroy the forensic examination objects. It is not always possible to safely evacuate them," said Stanislav Liubchenko. He suggested that the permission/order to destroy forensic examination objects should come from the Office of the Prosecutor General.
State expert Anastasiia Ulasevych informed the participants that according to the topic-related survey conducted by the Ministry of Justice, the majority of experts were in favour of the idea that forensic examination materials should not be destroyed, but should be returned to the entities requesting the expert opinion – courts and law enforcement agencies.
"But will the courts and law enforcement agencies be able to preserve these documents? Will the defence agree to accept such materials?" Anastasiia Ulasevych asked the audience. Nataliia Chornovus, representative of the human rights community, lawyer from Lviv noted that it is not possible for defence to store evidence.
"As entities requesting forensic examination, we will not be able to keep the examination items. After all, certain conditions must be ensured to preserve the evidence. Perhaps it would be appropriate to create a kind of storage where the experts could transfer objects for safekeeping if danger arises," suggested Nataliia Chornovus.
Svitlana Sukhenko, Head of the Expert Group on Justice-Related Legal Institutes of the Ministry of Justice of Ukraine suggested that state and private forensic experts consider evacuating important documents and forensic examination objects to state institutions that have properly equipped shelters, namely, storage facilities of banks, libraries, museums, etc. in case of marital law or state of emergency.
The online consultation attendants have agreed to consider ways to solve the issues raised and to offer their vision on how to improve respective legislation.