International Online Conference "Court Security in Ukraine" was held with the support of EU Project Pravo-Justice and USAID Program Justice for All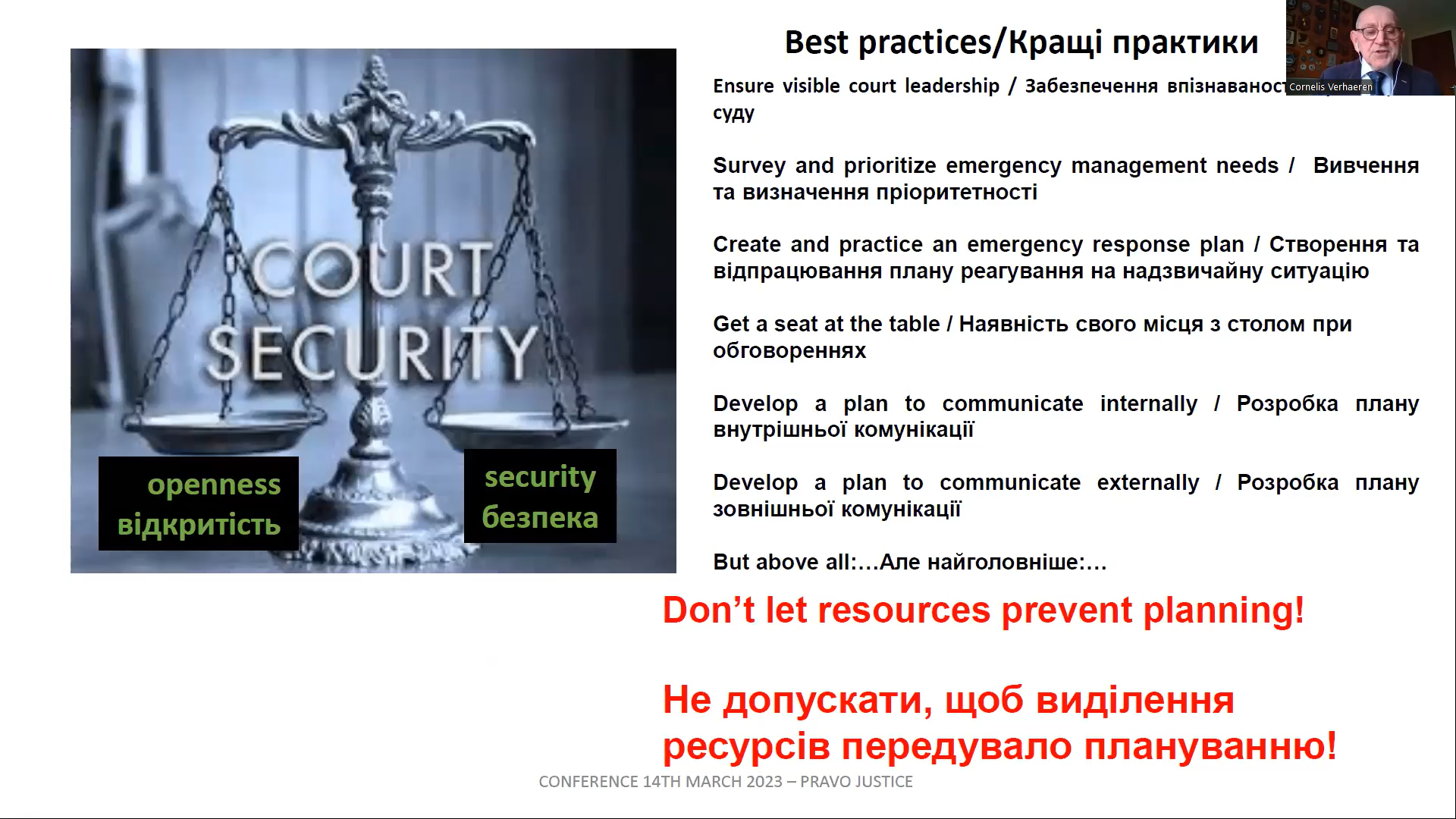 On March 14, international online conference "Court Security in Ukraine" was held. It was co-organized by the State Judicial Administration of Ukraine, International Association for Court Administrators, EU Project Pravo-Justice and USAID Program Justice for All.
The conference attendants discussed the consequences caused to court premises because of Russia's armed aggression, current working conditions in Ukrainian courts, and international experience in addressing court security issues and adjusting it so that it can be applied in Ukraine. Ensuring information and cyber security of judiciary e-systems and e-services was also discussed.
Professor Luis Maria Palma, President of the International Association for Court Administrators (IACA), moderated the conference. He reminded that the Association headed by him has drawn up various documents on restoring and ensuring continuity of court operations in Ukraine.
Serhii Chornutskyi, Deputy Head of the State Judicial Administration, told about the consequences of Russian aggression; he showed photos and videos of destroyed court premises. According to him, 13 court premises with a total area of 22,000 square meters were completely destroyed. According to SJA data, 97 judicial institutions were partially damaged.
Serhii Chornutskyi also reported that, to the extent possible, the damaged premises were repaired and the people working in courts were able to come back to work.
Pavlo Triasun, Deputy Head of the Court Security Service (CSS), reported that the CSS currently provides security for 585 judicial authorities in the government-controlled part of Ukraine. He said, "During the war, the CSS is working in a highly intense manner under special modalities; round-the-clock security is provided in all courts."
"Moreover, interaction and coordination between CSS territorial units and the territorial defence groups and other stakeholders involved in providing defence is ensured. CSS staff took part in eliminating enemy sabotage groups, evacuating High Anti-Corruption Court judges and court archives from the territories that suffered because of the actions by the Russian aggressor," added Pavlo Triasun.
According to Pavlo Triasun, the measures taken by CSS and its new operating modalities ensured continuous administration of justice during martial law.
Cornelis Verhaeren, EU Project "Pravo-Justice" international expert drew the conference participants' attention to the fact that given the ongoing war and the sharp increase in the number of war crimes trials, it will be necessary to implement qualitatively new approaches to ensuring court security.
"Security in judicial institutions is becoming extremely important – it concerns physical security of judges and court staff as well as potential threats related to cyber-attacks and security during trials against war criminals. It is clear that it is difficult to prevent and counter such threats as the use of heavy artillery. At the same time, there are measures that make it possible to minimize such threats," said Cornelis Verhaeren.
According to him, most of the factors related to court security planning in Ukraine have already been taken into account – in particular, as regards quick response measures, threat assessment, ability to implement emergency protocols.
Cornelis Verhaeren emphasized that it is important to plan the response to the full range of possible threats. As regards war crimes cases, he emphasized that witness protection programs are essential. Moreover, from his viewpoint, it is more feasible to construct new court premises rather than repair the damaged ones as it will be conducive to better response to all aspects of security.
Valerii Bakal, EU Project Pravo-Justice Senior National Expert and Component Lead on institutional development and coordination in e-justice said that the Project, together with the State Judicial Administration, Members of Parliament, the Ministry of Justice and the High Council of Justice has already designed a joint solution on auditing the Unified Judicial Information and Telecommunication System (UJITS): "The terms of reference at the first stage is to audit software used in courts, it will be conducted in the near future. After that, systems and business processes used in courts will be analysed: we will determine what can be optimized, improved, and simplified. The findings will be used as a basis for tangible solutions to protect judicial information and make it fully digital.
Pravo-Justice and SJA are currently working on two projects: first - creating a unified register of enforcement documents, and second – integrating the judicial system with Ukrposhta. This will reduce courts' workload – both financial and paper ones since this solution makes it possible to send documents to Ukrposhta electronically and from there to deliver them to the addressees in printed form," said Valerii Bakal.
EU Project Pravo-Justice has been taking active part in implementing several large-scale digital solutions in the justice system of Ukraine – in particular, it has contributed to creating digital database of legal positions of the Supreme Court and electronic document management system together with the Ministry of Justice. Moreover, this electronic document management system has already proven to be an efficient tool to ensure information security and smooth justice operations. Thanks to it, it was possible to save various documents of regional justice departments in the temporarily occupied territories: the documents were neither stolen nor destroyed.