Practical training "Working with vulnerable witnesses in war crimes trials" launched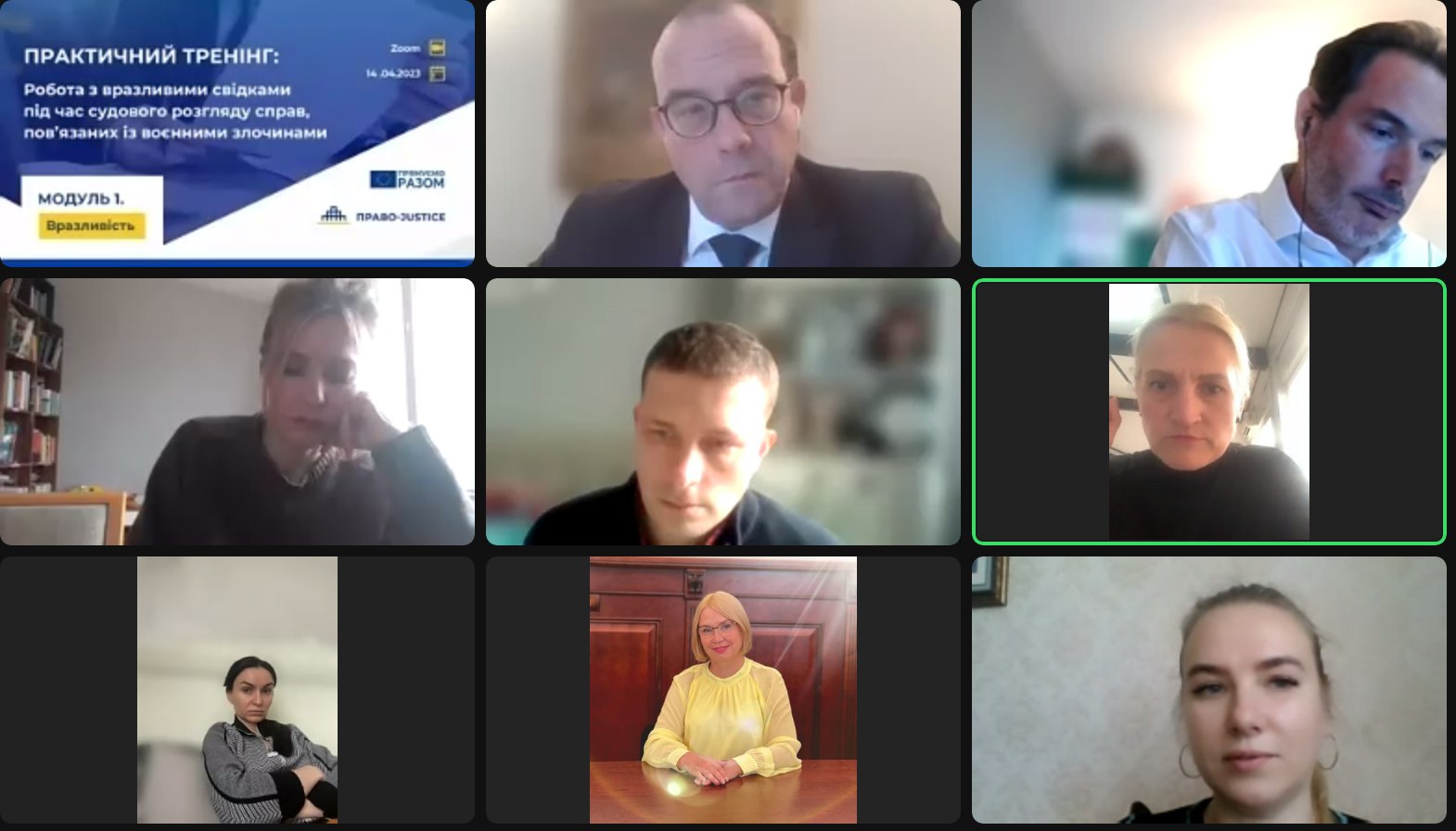 EU Project Pravo-Justice together with the National School of Judges of Ukraine initiated practical course "Working with vulnerable witnesses in war crimes trials."
During the first module, Emmanuelle Laudic-Baron, prosecutor, head of the international department of the French National School for the Judiciary gave welcome remarks. She emphasized that the National School for the Judiciary and international experts are ready to provide comprehensive support to Ukrainian judges and prosecutors.
"The reality Ukrainian judges and prosecutors had to face is unfair. Yet we are inspired by the perseverance and desire our Ukrainian colleagues have expressed to achieve results, so we are honoured to help. After all, we share your grief and want all the perpetrators to be brought to responsibility," emphasized Emmanuelle Laudic-Baron.
The trainers delivering the first module of the practical course are Olivier Beauvallet, international judge, Doctor Habilitatus; Joël Hennebois, senior investigating judge; Chantal Eid, certified clinical psychologist and psychotherapist. In course of their interventions, the experts talked about their extensive practical experience in working with vulnerable victims and witnesses, analysed the concept of vulnerability in detail, and also identified a number of the most pressing issues and challenges Ukrainian judges had to face.
Olha Sribniak, Key National Expert on the Judiciary with the Pravo-Justice Project noted that such cooperation between international experts and Ukrainian colleagues will help both parties consolidate their understanding of court proceedings, their features, and the approaches used by judges and prosecutors to consider war crime cases.
"We are convinced that being able to identify vulnerabilities and understanding the best practices of interacting with war crimes victims and witnesses is the key factor for prosecutors and judges to be able to effectively do their hard work of investigating such crimes and bringing the perpetrators to justice," emphasized Olha Sribniak.
It should be noted that during the four-module course, the trainees will get to know the concept of vulnerability and learn about international experts' experience in treating vulnerable victims and witnesses in criminal proceedings.
Ukrainian judges and prosecutors will also get recommendations and practical tools on how to interview victims of sexual violence and provide psychological support to victims.