"Justice for Ukraine" International Conference Took Place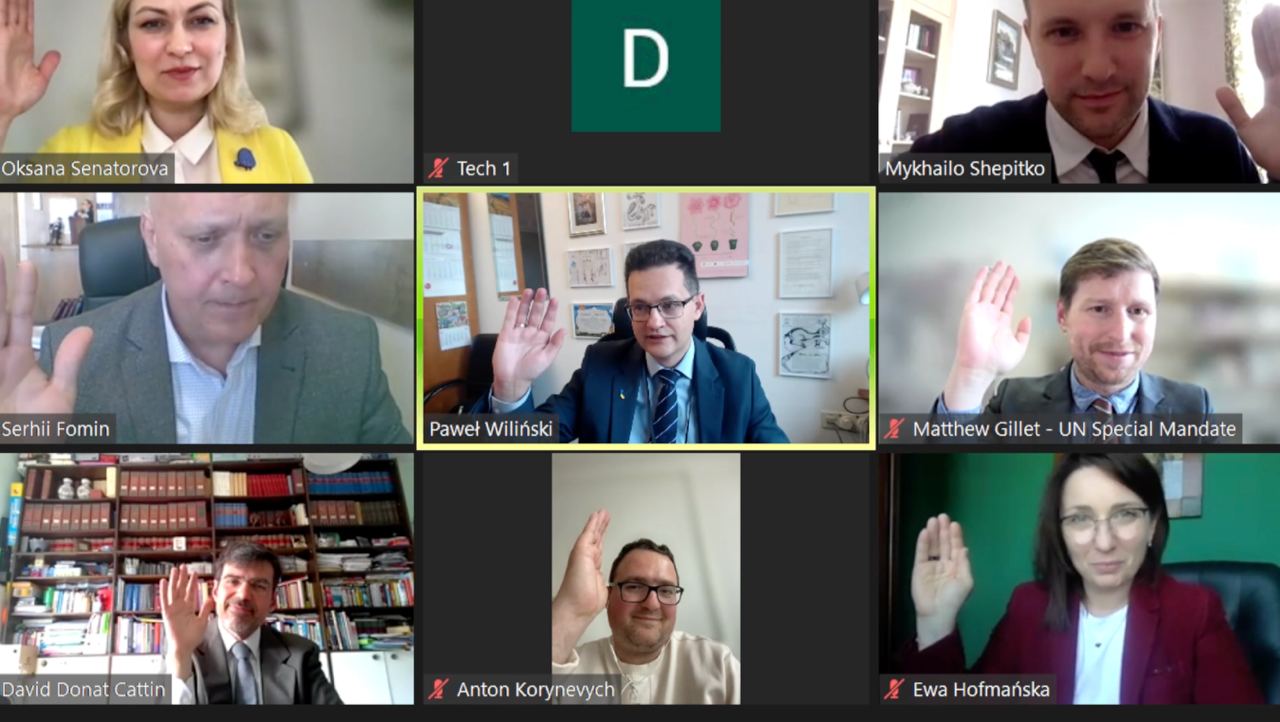 On May 19, the international conference "Justice for Ukraine. Crime of Aggression, War Crimes, Crimes against Humanity, Genocide", was organized and held by the Ukrainian and Polish sections of the International Criminal Law Association, the EU Project Pravo-Justice, and the Project Sunflowers (Poland).
Welcoming remarks at the conference were delivered by Head of the Criminal Chamber of the Supreme Court of Poland Dr. Michal Laskowski, Head of the Criminal Chamber of the Supreme Court of Lithuania Professor Gabriele Juodkaite-Granskiene, and Head of the Criminal Cassation Court of the Supreme Court, PhD in Law Stanislav Kravchenko.
Deputy Minister of Justice of Lithuania, Dr. Gabija Grigaite-Daugirde, emphasized that ensuring justice in Ukraine requires unprecedented attention, because Russia has attacked, among others, European values:
"We are interested in holding those guilty of crimes accountable. In particular, the International Criminal Court has already made important decisions. For example, arrest warrants have been issued in respect of President of the Russian Federation Vladimir Putin and Children's Ombudsman of the Russian Federation Maria Lvova-Belova. This is a clear signal that war crimes will not go unpunished," concluded Gabija Grigaite-Daugirde.
Anna Adamska-Gallant, Lead of the Judiciary Component of the EU Project Pravo-Justice, emphasized that almost every citizen of Ukraine was affected by Russian aggression. Therefore, the joint efforts of the entire Western world must ensure the restoration of justice and the prosecution of those guilty of war crimes:
"International law is the main global tool that makes it possible to bring the guilty to justice. At the same time, the role of national jurisdiction should not be underestimated. Considering the huge number of war crimes committed in Ukraine, the majority of cases will be considered at the national level, and only the most high-profile crimes will end up in international judicial institutions... In addition, when administering justice, Ukrainian lawyers should provide support to victims and witnesses, and ensure impartial consideration of war crimes and a fair trial," emphasized Anna Adamska-Gallant in her speech.
Dr. Ewa Hofmanska presented the work being conducted in Poland and other EU countries to gather information about evidence of crimes committed in Ukraine. She emphasized that the Project Sunflowers is currently working to enhance the collection of data from victims and witnesses of Russian aggression:
"We cannot afford neglecting any information, because we do not know how long this terrible war will last. Therefore, we must make maximum efforts to collect as many data as possible to establish justice," said Ewa Hofmanska.
Professor Matthew Gillett, former prosecutor at the International Criminal Court, drew attention to some legal aspects of international prosecution of crimes.
In particular, he reminded that the ICC does not apply functional immunity; so if somebody is the head of state or holds another key position, this does not prevent him or her from being prosecuted within the jurisdiction of the ICC. He also pointed out that amnesty does not apply to international crimes. "The ICC has repeatedly emphasized that no amnesty may apply to war crimes and crimes against humanity," noted Gillet.
Besides, according to Matthew Gillet, in the matter of prosecuting crimes, the highest leadership of the country is accused of, the most important thing is to prove the existence of an established policy at the state level. For example, it is relevant in the context of Ukraine to prove the guilt of the Russian leadership for the unlawful displacement of Ukrainian children from the temporarily occupied territories.
At the same time, he stated that the ICC cannot prosecute for the crime of aggression. Prosecution for such a crime is possible within another jurisdiction, he said.
In his speech, Professor Pawel Wilinski touched upon the issue of creating international courts to investigate war crimes in Ukraine. Which model is better to choose - an ad hoc tribunal or a hybrid (internationalized) court?
"There are pros and cons within each model, however an ad hoc tribunal has more chances to gain international recognition and support from the international community. If a decision is made to create a hybrid court, then such a court should be located in the territory of Ukraine, for example, in Kyiv or in Kharkiv. In the latter case, it would be very symbolic, because a huge number of crimes were committed there both during this war and many years ago – during World War II. Having a hybrid court has its advantages: better understanding of the legal system and legal culture; more effective access to evidence, and the speediness of the trial," said Professor Wilinski.
At the same time, in his opinion, one should not take the creation of a tribunal – either hybrid or ad hoc - as a panacea against all problems that will help solving all issues relating to the current conflict. "Neither ICC, nor national judicial system, nor judicial systems of other countries can cope with this on their own. It is important here to have a complex system of justice, which will include national elements, elements of universal and subjective jurisdiction, and a special institution, such as the International Criminal Court," added Professor Wilinski.
At the end of the event, Professor Mykhailo Shepitko presented a draft resolution on the creation of effective mechanisms for bringing to justice those guilty of international crimes in Ukraine, which was initiated by the Ukrainian and Polish sections of the International Criminal Law Associati