EU Project Pravo-Justice held an Online Round Table on Sanctions Policy in Ukraine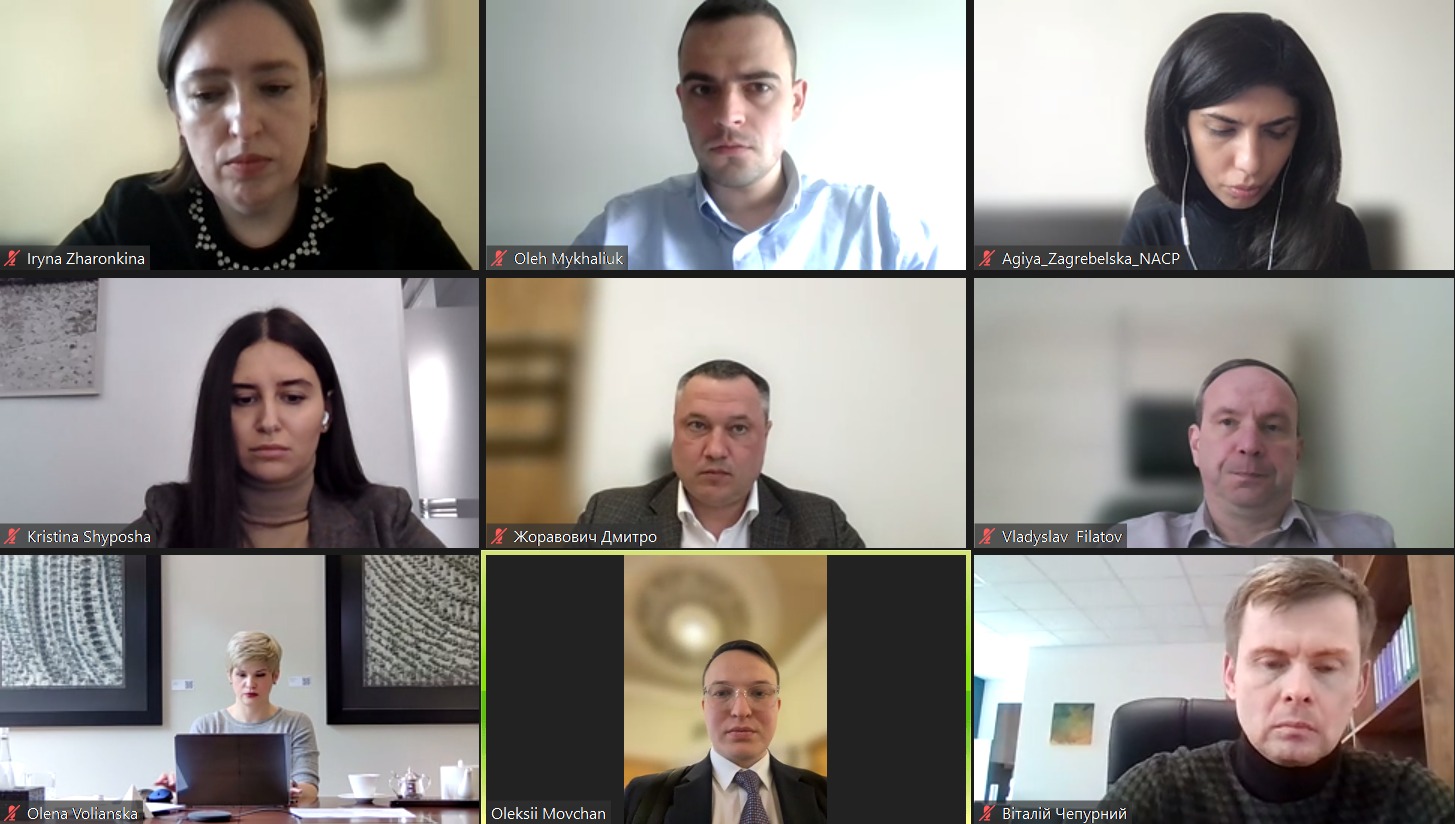 On April 11, EU Project Pravo-Justice held an online round table "Sanctions: Legislative Initiatives and Jurisprudence". Members of Parliament, representatives of the Ministry of Justice of Ukraine, the Asset Recovery and Management Agency (ARMA), the National Agency on Corruption Prevention (NACP), the Association of Private Enforcement Officers of Ukraine, the National Association of Bankruptcy Trustees of Ukraine, the Independent Association of Banks of Ukraine, and legal professionals took part in the event.
In her welcome remarks, Iryna Zharonkina, Property Rights and Enforcement Component Lead, EU Project Pravo-Justice, said that the event is aimed at analyzing how sanctions policy is developing in Ukraine and studying the impact of sanctions on certain procedures, in particular, enforcement proceedings, bankruptcy, and getting to know international experience.
"The sanctions policy in Ukraine is actively developing. We can already see the first outcomes of imposing sanctions and evaluate whether they are effective or not. Jurisprudence is already being formed. Several draft laws on imposing sanctions are to be considered in the Parliament. Therefore, at this round table, we aim to look at how sanctions policy is developing in Ukraine, outline challenges and hear about ways to solve them," said Iryna Zharonkina.
During his speech, Dmytro Zhoravovych, Acting Head of ARMA covered the results achieved by the Agency in searching the property of persons subject to sanctions. According to him, since the sanctions mechanism was launched, ARMA processed more than 5,000 requests regarding entities that were on Ukrainian sanctions lists. He also drew attention to the fact that it is necessary to extend ARMA's mandate at the legislative level as to preparing and submitting proposals to the Government in terms of imposing, lifting and amending sanctions submitted by the Cabinet of Ministers of Ukraine to be considered by NSDC.
"Given the Agency's mandate, functions and tools in terms of detecting and searching assets of persons subject to sanctions, ARMA should be given such mandate. After all, the National Agency collects large arrays of data on the assets of such persons and can promptly and directly provide the Government with information on whether it is feasible to introduce, correct and improve some restrictive measures," said Dmytro Zhoravovych.
Oleksii Movchan, Deputy Chair of the Parliamentary Committee on Economic Development of Ukraine, outlined current legislative initiatives that are already being considered by the Parliament and are still in progress.
"The issue of sanctions is urgent, as there are many challenges that need to be resolved in order to strengthen our country at tough times of fighting against the Russian aggressor. Amendments to the sanctions legislation and the legislation on managing state-owned property have been prepared for the second reading. These amendments relate to setting up a special procedure for managing assets subject to sanctions based on the principle that seized property can be promptly sold and the funds can be sent to appropriate sources for overcoming the consequences of armed aggression," said Oleksii Movchan.
He added that according to draft law No. 8250, the sanctioned assets will be immediately transferred to the State Property Fund upon the court's judgement, and then the State Property Fund will be able to distribute them. The MP also reported that several concepts regarding managing seized assets are being discussed in the Parliament. One of them provides for reforming ARMA, that is, transferring part of its functions to the State Property Fund, namely the ability to manage seized property.
"We need to bring these assets back to the market, to the economy. Today, there are a lot of claims that certain seized factories and enterprises are closing down, accumulating large debts, that is, in fact, property is being destroyed. We cannot let this happen, so we have to set out high-quality procedures for managing such property," Oleksii Movchan noted.
Serhii Demchenko, Member of Parliament, spoke about another legislative initiative in the field of sanctions policy – draft law No. 8392.
"Originally, the draft law concerned creating a state register of sanctions. However, later on, it was to cover the rules which, in particular, solve the problems faced by the High Anti-Corruption Court when considering such cases were added to it", said Serhii Demchenko.
Ahiia Zahrebelska, who is in charge of the workstream related to minimizing corruption risks within the sanctions policy of the NAPC, covered the challenges related to sanctions in detail.
"The first challenge is sanctions infrastructure developed in the interwar period or a time when not so many sanctions were imposed. It is outdated and does not meet current challenges," said Ahiia Zahrebelska.
According to her, the fact that there isn't a single register of sanctions gives rise to a number of problems. NAPC created the "War and Sanctions" portal, which, at first glance, looks like a sanctions register, but it cannot be used as an official source of information.
Ms. Zahrebelska emphasized the fact that Ukraine should calibrate sanctions, take into account the risks and consequences for the Ukrainian economy after the imposition of certain sanctions and clearly understand the purpose for which sanctions are applied to a specific person or entity.
"In order to make Ukraine's sanctions policy more efficient, it is necessary to introduce responsibility for evading sanctions. The relevant draft law is pending in the Parliament, but has not yet been adopted. It is wrong to talk about proper compliance with the sanctions when the entity bears no responsibility for the violation," Ms. Zahrebelska emphasized. She also spoke about the international experience of introducing responsibility for evading sanctions.
The representative of the NAPC noted that Ukraine should clarify the imposition of sanctions and create a clear procedure for lifting the sanctions when the goals of the sanctions have been achieved, that is, the entities subject to sanctions have changed their behaviour. She mentioned that the fact that there isn't a single body that would administer the entire sanctions process from the calibration of sanctions to monitoring and control is yet another problem that slows down the process of sanctions.
"Unifying Ukraine's sanctions process with that of its partners is also important. It is necessary to synch sanctions as this will allow not only to minimize ways of circumventing them but will also serve as a powerful message both to the aggressor and to third countries that did not join the sanctions coalition," added Ahiia Zahrebelska.
According to her, there are also not enough software tools that make it possible to work with a large amount of data.
Vladyslav Filatov, Director of the Bankruptcy Department of the Ministry of Justice of Ukraine, spoke about imposing sanctions in bankruptcy procedures when the debtor/creditor is a person or entity subject to sanctions. He explained in detail what amendments they plan to introduce in Resolution No. 187 and why. He also outlined amendments to draft law No. 7442. One of them has to do with amending the Code on Bankruptcy Procedures as it provides that a creditor under sanctions is deprived of the right to vote during imposition of sanctions (it is about blocking assets).
"We expect that it will be governed at the level of legislation and we are now providing clarifications as to the questions we receive," said Vladyslav Filatov.
During her speech, Olena Volianska, EU Project Pravo-Justice expert, LCF law firm partner stated that the legal framework in the field of bankruptcy is insufficient when an entity subject to sanctions is involved in an insolvency case. "Bankruptcy is an important component of the economy. There is an ultimate goal to it. Restrictive sanctions prevent violations that could occur in this area. However, they don't tell us how to solve the problem and finally achieve the goals of bankruptcy," said Olena Volianska.
Kostiantyn Kolomoitsev, Head of the Secretariat of the Association of Private Enforcement Officers of Ukraine focused on the conflict of legislation on sanctions and enforcement proceedings. He stated that imposing sanctions on a debtor in enforcement proceedings should not "cancel" the binding nature of the court decision and deprive a creditor acting in good faith of the right to enforce it. According to him, the peculiarities of taking enforcement measures if sanctions are imposed on the parties to enforcement proceedings should be governed by law and provide for "safeguards" against abuse of rights and withdrawal of assets. Kostiantyn Kolomoitsev also noted that courts should take into account the fact of imposing a certain type of sanction when making a decision on debt recovery or foreclosing on specific property.
Vasyl Hei, expert of the IABU Committee on Legal Support of Banks' Activity and Protection of Creditors' Rights stated that it would be more feasible to govern by law a number of issues that is now governed by Resolution No. 187. He also outlined the legislative initiatives that the National Bank of Ukraine presented as to improving bankruptcy procedures and enforcement proceedings in a person subject to sanctions is involved.
"Back in September 2022, the IABU approached the Cabinet of Ministers, the Ministry of Justice and the NBU with the initiative to establish an exception for the enforcement proceedings initiated before February 24, 2022 and bankruptcy cases that are at the stage of liquidation. In our opinion, this would contribute to protecting creditors and banks since the recovered bad assets would be further directed to developing the country's economy," said Vasyl Hei.
Oleksandr Alieksieienko, partner at the Nobles law firm, reviewed regulation of sanctions in Germany.
"In Germany, there is a single body responsible for sanctions policy. Much of the work in this area has been shifted to the private sector as a requirement to report on sanctions or contact with sanctioned persons has been introduced. They are bound to submit this information to the relevant registers. There is a sanction for violating this obligation – not just a fine, but even imprisonment," Oleksandr Alieksieienko said.
Kristina Shyposha, counsel in business protection, compliance and corruption prevention of Integrites law firm drew attention to the fact that there isn't a clear list of criteria and grounds for imposing sanctions, nor there is a mechanism for lifting sanctions, the so-called "taking off the sanctions list".
"The law is limited to the wording that it is possible to lift sanctions only if the goals for which they were imposed are achieved. At the same time, there is no clarity on the step-by-step plan for persons subject to sanctions to follow to then be taken off the sanctioned list. Currently, getting on the sanctions list is a point of no return," said Kristina Shyposha.
Inna Bohatykh, Head of the Department for Sanctions Policy of the Ministry of Justice of Ukraine emphasized that sanctions policy in Ukraine is just being developed and it is necessary to adopt many amendments for it to work as a comprehensive mechanism. She was hopeful that soon draft law "On the Principles of Sanctions Policy" will be submitted to the Parliament of Ukraine, which, in particular, provides for establishing a certain body that will be the key stakeholder in the field of sanctions policy.
Conference video
Запис конференції