Admissibility of evidence in war crimes cases: EU Project Pravo-Justice took part in organization of a webinar for judges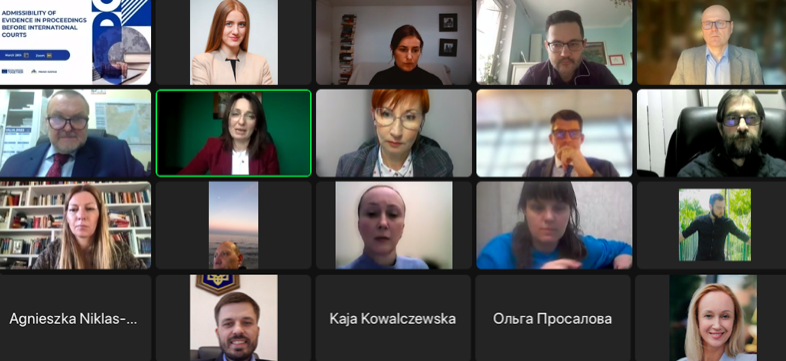 On March 28, the EU Project Pravo-Justice together with the Sunflowers Project and the National School of Judges of Ukraine organized a webinar "Practical aspects of admissibility and evaluation of evidence in war crimes cases."
Opening the event, Eva Hofmanska, coordinator of the Sunflowers Project, noted that the topic was not chosen by chance. After all, it is necessary not only to discuss the theoretical and procedural aspects of evidence in war crimes cases, but also the practical application of this knowledge.
"We are witnessing unheard-of atrocities in Ukraine. It is necessary to unite in order to create effective mechanisms for gathering information that will allow judges to consider cases against criminals," emphasized Eva Hofmanska.
According to Anna Adamska-Gallant, the International Key Expert on judicial reform of the EU Project Pravo-Justice, not all the collected information will be used as evidence in national and international courts or in the International Criminal Court. Therefore, it is important to choose such information for legal proceedings, which will have an undeniable evidential value.
In turn, Professor Bartłomiej Krzan from the University of Wroclaw spoke about the admissibility of evidence in cases that will be submitted for trials. He noted that international tribunals have full freedom to admit and evaluate evidence.
"The practice of international tribunals provides for various methods of proving contested facts. Evidence will therefore play an important role in decision-making by international criminal courts. At the same time, it is necessary to take into account the legal system within which the cases will be considered," said Professor Bartłomiej Krzan. Dr. Dariusz Selicki, a former international judge in Kosovo, spoke about the evaluation and admissibility of electronic evidence of war crimes.
"The most common problem we face when we receive digital evidence is authentication, verifying what the evidence represents. For example, a surveillance camera recording should be verified for its authenticity as follows: where the video was obtained, what time the recording was made, whether the recording has not been altered, etc. Next, judges must consider the probative value of such evidence," said Dariusz Selicki.
Concluding the webinar, Klaus Hoffmann, adviser on the prosecution of war crimes to the Office of the Prosecutor General (Ukraine), shared his experience regarding the admissibility of evidence in the International Criminal Tribunal for the former Yugoslavia. According to him, the following approach was introduced in the court: first admitting evidence, and then estimating its evidentiary weight. Therefore, any information that had probative value was allowed.