How to cover war crimes ethically: EU Pravo-Justice Project held a webinar for courts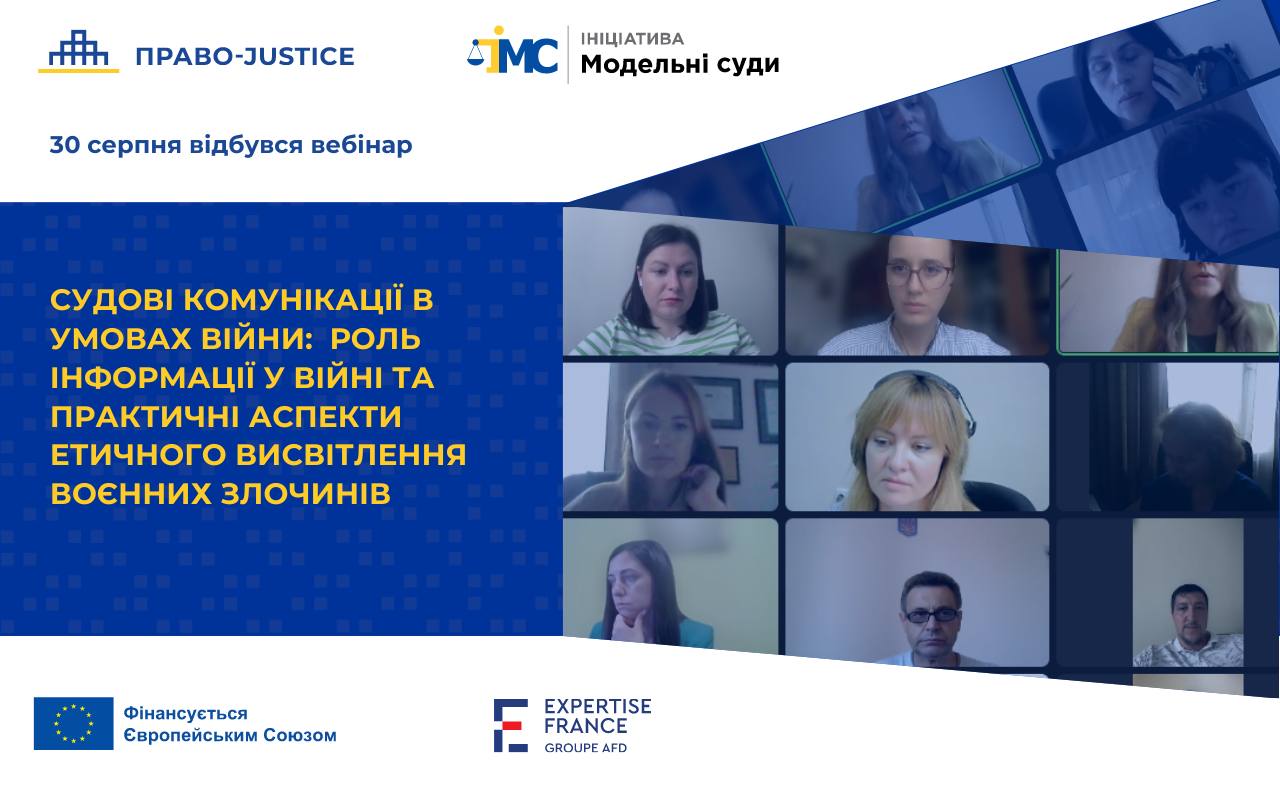 On 30 August, EU Pravo-Justice Project together with the All-Ukrainian Association of Court Employees held the second webinar for judges and court staff named "Judicial Communications in Wartime: The Role of Information during the War and Practical Aspects of Covering War Crimes Ethically."
The event was held within the framework of the Model Courts Initiative.
Opening the event, Olha Sribniak, Key National Expert of the Judiciary component, noted that the Ukrainian judiciary is learning to deal with such a complex topic as war crimes.
"More than 100,000 war crimes committed by the aggressor have already been recorded in Ukraine. The findings of their investigation are very important for a society that is extremely demanding of justice. At the same time, this is a complex topic that has many sensitive aspects. It is important to take them into account when communicating cases related to war crimes," said Olha Sribniak.
Iryna Zemliana, speaker at the webinar, national expert of EU Pravo-Justice Project, media expert at the Institute of Mass Information, focused on the ethics of covering war crimes and the role of information in war.
She discussed in detail key practical aspects of communicating war crimes, as well as understanding ethical approaches to ensure effective judicial communication in times of war.
"It is not appropriate to use emotionally coloured vocabulary, be guided by stereotypes or generalisations, use improper terminology, or label things. It is important to focus on presenting facts and context," the expert emphasised.
Iryna Zemliana also said that that emotional quotes about IDPs should be avoided, and that IDPs should not be stereotyped.
"The criminal news should not indicate that a person is an IDP. After all, the crime has nothing to do with a person's origin," emphasised the speaker.
At the same time, according to Iryna Zemliana, there may be people in war crimes cases who should not be named. For example, these are victims of rape, people who have committed suicide, minors or children, and people with visible mental disorders.
Moreover, the expert spoke about the ethical requirements for photographs and visuals in communicating war crimes, and highlighted recommendations and warnings on using terminology about events in Ukraine.