Virtual Assets in Enforcement Proceedings: How to Improve the Level of Enforcement of Court Decisions in Ukraine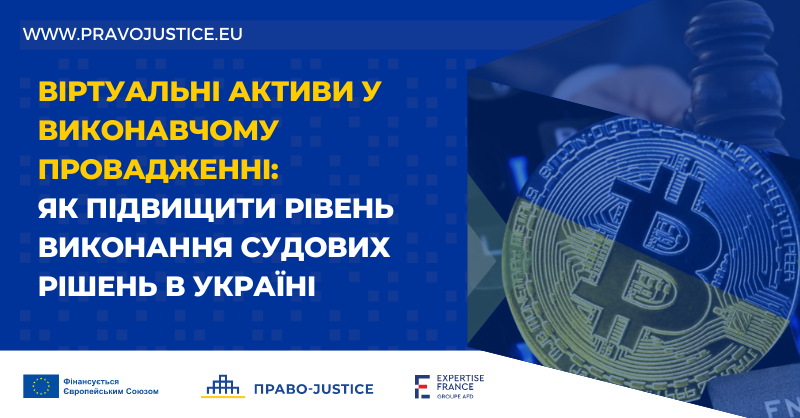 The enforcement system is an integral part of the justice system and a key element in the system of protecting creditors' interests. Any reforms in the justice sector will have little practical benefit unless full and timely enforcement of court decisions is ensured. The level of protection of creditors' interests is one of the indicators assessed by the World Bank to determine the Ease of Doing Business Index. Therefore, ensuring the protection of creditors' interests is crucial in the course of Ukraine's reconstruction. It is well known that the efficiency of enforcement of court decisions on debt recovery in Ukraine is critically low, fluctuating at around 3%. The situation has been significantly improved by introducing the role of private enforcement officers, who can enforce a court decision if the debtor has property.
When enforcing court decisions, enforcement officers traditionally deal with property types such as cash, vehicles, real estate, land plots, etc. According to the Institute for Strategic Studies, in 2022, the daily turnover of virtual assets in Ukraine amounted to about UAH 1 billion. Thus, virtual assets, even according to the most conservative estimate of this market, are a potential asset that can be enforced. However, enforcement officers still do not have effective tools to seize and recover virtual assets. This creates a situation where virtual assets can be used by debtors as a way to avoid fulfilling their obligations to the creditor.
On 17 February 2022, the Parliament of Ukraine adopted the Law of Ukraine "On Virtual Assets" (No. 2074-IX), which governs the main issues related to the circulation of virtual assets, namely transactions with virtual assets, intermediary services in respect of virtual assets, etc. However, this Law will come into force from the date of entry into force of the Law of Ukraine on Amending the Tax Code of Ukraine on Peculiarities of Taxation of Transactions Involving Virtual Assets.
In December 2021, the International Union of Judicial Officers presented the Global Code of Digital Enforcement. It defines universal principles that states should implement in their national legislation to govern the use of digital technologies in enforcing judgments and contracts and the principles related to all aspects of digital enforcement in civil cases.
The Code is the best available practice in digitalising enforcement proceedings and should be used as a guide for Ukraine in implementing reforms in the field of enforcement of court decisions. It establishes approaches to using technology to enforce court decisions and related issues, in particular the ethical aspects of using such technologies, risks associated with artificial intelligence, personal data protection and access to electronic registers. This Code is a progressive document that pays considerable attention not only to the digitalisation of the enforcement procedures, but also to the enforcement of judgements through the recovery of virtual assets.
According to the Code, states must create conditions under which crypto assets can be seized by enforcement officers and used to enforce debt repayment. Furthermore, the Code provides for the establishment of a crypto asset register, and if there is no such register, for mandatory declaration of crypto assets. The document also requires enforcement officers to access computer systems where crypto asset information is stored. Thus, in accordance with the principles set out in the Code, further reforms in the area of enforcement of court decisions should include making it possible to recover virtual assets. This will be possible if the Law already adopted Law No. 2074-IX "On Virtual Assets" enters into force .
However, it is necessary to start preparing for this today. Recently, the Draft Law on Amending Certain Laws of Ukraine on Digitalisation of Enforcement Proceedings (No. 9363 of 07.06.2023) was registered. The EU Project "Pravo-Justice" welcomes this legislative initiative and believes that if adopted, it will make the enforcement of court decisions more efficient and create better conditions for protecting creditors' interests. However, in our opinion, in addition to digitalising enforcement procedures (obtaining information and holding auctions), digitalisation should also apply to enforcing court decisions regarding virtual assets. In view of this, it is advisable to harmonise the provisions of Draft Law No. 9363 with Law of Ukraine No. 2074-IX defining the legal framework for handling virtual assets in Ukraine. This is necessary to ensure that virtual assets owned by debtors can also be used to enforce court decisions. This also requires prompt adoption of amendments to the Tax Code of Ukraine regarding the taxation of transactions involving virtual assets.
We are also confident that expanding the potential list of assets that can be used to enforce a court judgement will help to improve the culture of compliance and good faith when it comes to debtors' behaviour.
The text was first published in the regular blog by EU Project "Pravo-Justice" at LB.ua