Restoring Justice for wartime sexual violence crimes: what is required? Blog by Oksana Tsymbrivska for Censor.NET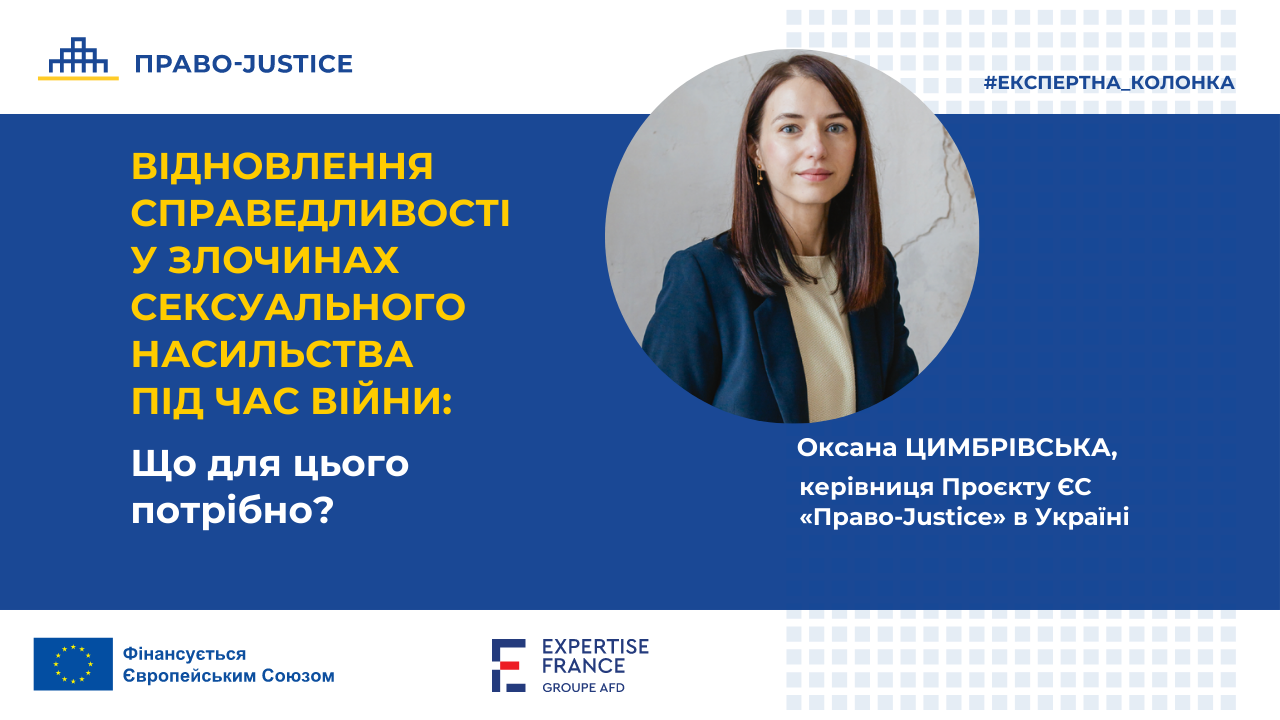 As of 5 July, the Office of the Prosecutor General has registered over 96,000 war crimes committed by the Russian military since the full-scale invasion started. This figure may be higher as a significant part of Ukraine's territory remains under occupation, making it impossible for Ukrainian law enforcement to access it.
A distinct category of war crimes is the crime of conflict-related sexual violence (CRSV). This is another war tool that the enemy systematically uses against Ukrainian women, men and even children. When the systemic nature of such actions is proven, it may amount to a crime against humanity. When combined with the intent to destroy, in whole or in part, any national, ethnic, racial or religious group as such, sexual violence can also qualify as genocide. With this in mind, it is important to take a number of systematic and comprehensive measures to document and investigate crimes and bring perpetrators to justice.
It is worth noting that in 2000, the UN Security Council voted in favour of Resolution 1325 "Women, Peace and Security", which calls for the protection of women and girls from conflict-related sexual violence and is an official reflection of the opinion or will of UN bodies. The Russian Federation was one of the signatories to this Resolution…
Unfortunately, the level of reporting CRSV remains rather low. For example, since 24 February 2022, prosecutors have recorded 210 cases of sexual violence, including rape, mutilation or violence against genitals, forced nudity, threats and attempts to rape, forcing to watch sexual abuse of loved ones, etc. Of these, only 61 crimes have been solved so far.
According to the official statistics of the Office of the Prosecutor General, the largest number of CRSV cases is currently recorded in the following regions: Kherson (68), Kyiv (52), Donetsk (50), Kharkiv (19), Zaporizhzhia (7), Chernihiv (4), Luhansk (3), Mykolaiv (5) and Sumy (2). Again, the actual numbers could be and probably are ten times higher, in particular due to trauma, stigma, displacement and lack of information on remedies.
It should be borne in mind that wartime sexual violence is a crime that is not only difficult to investigate, but also difficult to prove. In order to report these crimes, victims and witnesses must first and foremost trust law enforcement agencies, and they must, in turn, follow approaches aimed at protecting the interests of victims and witnesses.
Three important vectors can be identified to bring perpetrators to justice and restore justice for CRSV crimes.
The first is working to address the problem of stigmatisation that accompanies sexual violence and leads to a number of problems, including low levels of reporting of such crimes.
Motivational campaigns conducted by law enforcement agencies to inform victims are an important and necessary step. It helps sexual assault victims to come out of the shadows, to confide and to provide information about the violent acts they have suffered or know about. Moreover, given that there are stereotypes in society that lead to cases where victims and witnesses remain silent for months or even years, an awareness-raising mission is also important, and this includes the media. For example, it is necessary to convey to Ukrainian society that the person guilty of violence is always the perpetrator. It should be explained that reporting CRSV is part of the process of restoring justice for the victim which aims to bring the perpetrators to justice and enable the victim to receive reparations. Furthermore, it should be explained that CRSV is a war crime that has no statute of limitations and can be reported even years later.
It is worth noting that such awareness-raising work is currently unsystematic, so it should definitely be conducted on a regular basis.
Secondly, it is necessary to ensure the capacity building of the system to cope with the potential and actual extent of CRSV crimes, given how deep the problem of CRSV is. Unfortunately, the number of victims is growing every day, including among male servicemen held in captivity and subjected to torture. As a result, survivors' need for assistance is also increasing.
Alongside the challenges of dealing with high caseloads and the number of staff, it is also necessary to ensure the appropriate treatment of victims. It is important that law enforcement agencies act towards them with the utmost sensitivity, respect and in accordance with modern human-centred practices. This means to systematically implement a dedicated policy aimed at supporting victims, rehabilitating them, and avoiding additional trauma so that they can live a full life in society. Currently, the Prosecutor General's Office, with the support of international partners, has already developed and is implementing strategic approaches focused on victims and witnesses. Moreover, in order to introduce new approaches to protect the interests of victims and witnesses and ensure their needs and rights, the Prosecutor General approved the Strategic Plan for the Exercise of Prosecutorial Functions Related to Prosecuting Conflict-Related Sexual Violence at the end of June 2023.
Another recent important development in the area of assisting victims is the establishment of the Victims and Witnesses Coordination Centre, a specialised unit within the Office of the Prosecutor General that will deal with participants in criminal proceedings and support victims and witnesses, even if the cases last for years. In particular, the staff of the Coordination Centre will inform citizens about their role in criminal proceedings, inform them of the time and place of court hearings, accompany them to court, and provide legal advice, psychological and social assistance.
Thirdly, in order to more effectively investigate CRSV crimes, it is crucial to have coordinated and coherent cooperation of national stakeholders - law enforcement agencies, medical and social service providers, free legal aid, etc.
The world must unite to restore justice and bring all perpetrators to justice. This is a goal pursued by all civilised countries, and we are already seeing the first significant steps towards establishing of a tribunal to prosecute the Russian leadership. For example, the International Centre for the Prosecution of Crime of Aggression against Ukraine (ICPA) has recently commenced its activities. Thus, we are witnessing Ukraine making history in building a new architecture of international justice. The newly established International Centre for the Prosecution of Crime of Aggression against Ukraine (ICPA) will be key in building the case file for the future Special International Tribunal for the Crime of Aggression against Ukraine, the format of which is currently being actively discussed. At the same time, it is important that ICPA will also contribute to building cases both before the International Criminal Court for crimes within its jurisdiction and before national courts. This, in particular, concerns such a sensitive topic as sexual violence.
Oksana Tsymbrivska, EU Project "Pravo-Justice" Country Manager, specially for Censor.NET.