Court Volunteer Service: what support is provided to court visitors? Joint publication by Yevheniia Bondarenko and Volodymyr Chaban for the Yurydychna Gazeta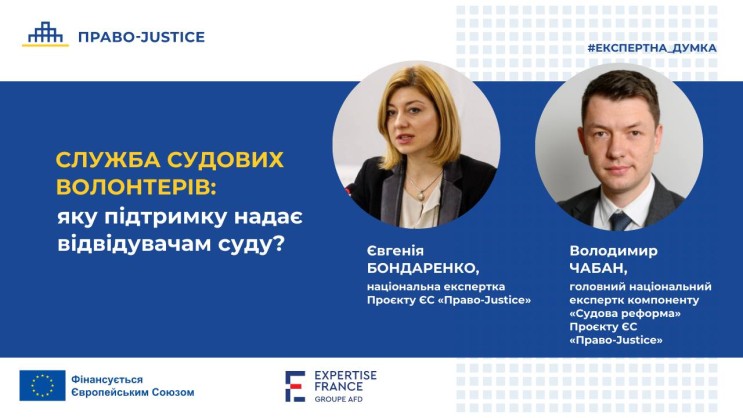 During the full-scale invasion by the Russian Federation, volunteering has become an integral part of life in Ukraine in various spheres. The judiciary is no exception.
Having started before the war as a socially important project, the idea of creating court volunteer services has gained a new meaning. On the one hand, they help solve the problem of staff attrition and insufficient court funding, and on the other hand, they provide proper support to court visitors, including vulnerable victims and witnesses of war crimes.
Ukraine has begun to create volunteer services in courts, drawing on and developing the experience of international experts from Lithuania. The idea was well received, and as a result, more than 300 court volunteers have been engaged in 17 courts in different regions of Ukraine.
Moreover, court volunteering has already been enshrined in regulations. For example, in June 2021, the President signed a decree approving the Strategy for the Development of Judiciary and Constitutional Justice for 2021-2023. It, among other things, provides for the establishment of a volunteer service to provide information support to victims and witnesses to shape the attitude towards the court as a socially responsible authority.
This initiative helps to create a client-oriented court atmosphere, ensure a comfortable experience for visitors in court, and improve access to justice for vulnerable groups.
What is the role of volunteers in the court?
The range of services provided by court volunteers can be quite wide.
For example, volunteers help to find courtrooms, provide practical information, explain rights and obligations, assist in arranging social events, and inform about court activities.
Volunteers also tell people about the possibility of getting legal aid from the state, facilitate interaction between the court, partner organisations and the Free Legal Aid (FLA) system, as they cannot provide legal advice themselves.
That is why volunteers not only help visitors who come to the court with specific problems but also simplify the work of court staff.
Why is this necessary?
For example, a person who has received a notice of the date, place and time of a court hearing usually still wants to make sure that the information in the summons is correct. However, very often the information about the courtroom they need becomes available only after they actually get to the courthouse.
Difficulties that arise when searching for the right room can cause irritation and anxiety. Therefore, it is an important task for a volunteer to help navigate the court building.
Volunteers can also be involved in providing direct practical and emotional support to victims of crime. For example, they can act as an informed guide to support them during criminal proceedings.
If a volunteer is assigned to an integrated front desk, he or she will provide initial support when interacting with crime victims: providing important information during the first visit to the court, encouraging vulnerable victims and witnesses, and helping to create a sense of security.
Sometimes children come to court with their parents, and they are also court visitors and need to be given proper attention. When the child is not a party to the proceedings, court volunteers can interact with them in the space designed for children to reduce stress for parents and young visitors. For example, a volunteer can tell them about the court while the parents are dealing with cases in the registry or in the courtroom.
Experience of Court Volunteer Services in Ukraine
Each court determines how to arrange the Service's activities. For example, in the Vinnytsia Court of Appeal, the volunteers are law students from the local university. They work in the lobby and in courtrooms in shifts: one group before lunch and the other after. In general, volunteers work no more than 8-10 hours a month: they inform visitors, accompany them to the courtroom, and, if necessary, refer them to other services – free legal aid, social workers, psychologists, etc.
The project is being implemented within the framework of a memorandum of cooperation signed between the Vinnytsia Court of Appeal, Vinnytsia Institute of Trade and Economics, and the Regional Centre for Secondary Legal Aid in Vinnytsia Region. Later, the Vinnytsia City Court of Vinnytsia Region joined the memorandum.
At the Inhulets District Court in Kryvyi Rih, Dnipro Region, volunteers are the first to receive visitors' requests and provide the necessary information. Volunteers come to the court twice a week – on the days when cases are heard.
Since the court is located in a building that is not conducive to comfortable administration of justice, it is the court volunteers who are the first to help visitors. They help to direct the people and avoid confusion in the building, inform them about the necessary paperwork, stay with children, explain how to apply for free legal aid, etc.
Thus, by interacting with visitors first, volunteers reduce the workload of court staff, making their work more efficient.
At the Ternopil City District Court, volunteers inform citizens about available victim support services, provide standard forms to fill out (for example, for writing a statement), tell them about electronic services for remote court proceedings, as well as free legal aid, and help them find courtrooms.
The court volunteers also provide vulnerable people with information about the facilities available in the court building (a restroom for people with disabilities, places for rest, etc.) and take care of children. These are students who have been trained under a memorandum of cooperation concluded between the court, the Regional Centre for Free Secondary Legal Aid in Ternopil Region and the higher education institution where they study.
How to create a Volunteer Court Service?
If a court wants to launch such a project, it should first establish cooperation with regional educational institutions and free legal aid centres and, if all parties agree, sign a memorandum.
The following persons can act as volunteers: students (Vinnytsia Court of Appeal, Vinnytsia City Court of Vinnytsia Region, Ternopil City Court of Ternopil Region, etc.), high school students (Lozova City Court of Kharkiv Region) who have completed a special distance learning course and practical training.
Special recommendations for courts on how to establish the Volunteer Service have been developed. Mentoring from Pravo-Justice Project experts, as well as experience of colleagues from other courts is available.
Yevheniia Bondarenko, EU Project "Pravo-Justice" National Expert
Volodymyr Chaban, Key National Expert of the Judicial Reform Component, EU Project "Pravo-Justice"
The text was first published in "Yurydychna Gazeta".