Court Staff Members Were Taught Basic Digital Literacy at the Webinar Organized by the EU Project Pravo-Justice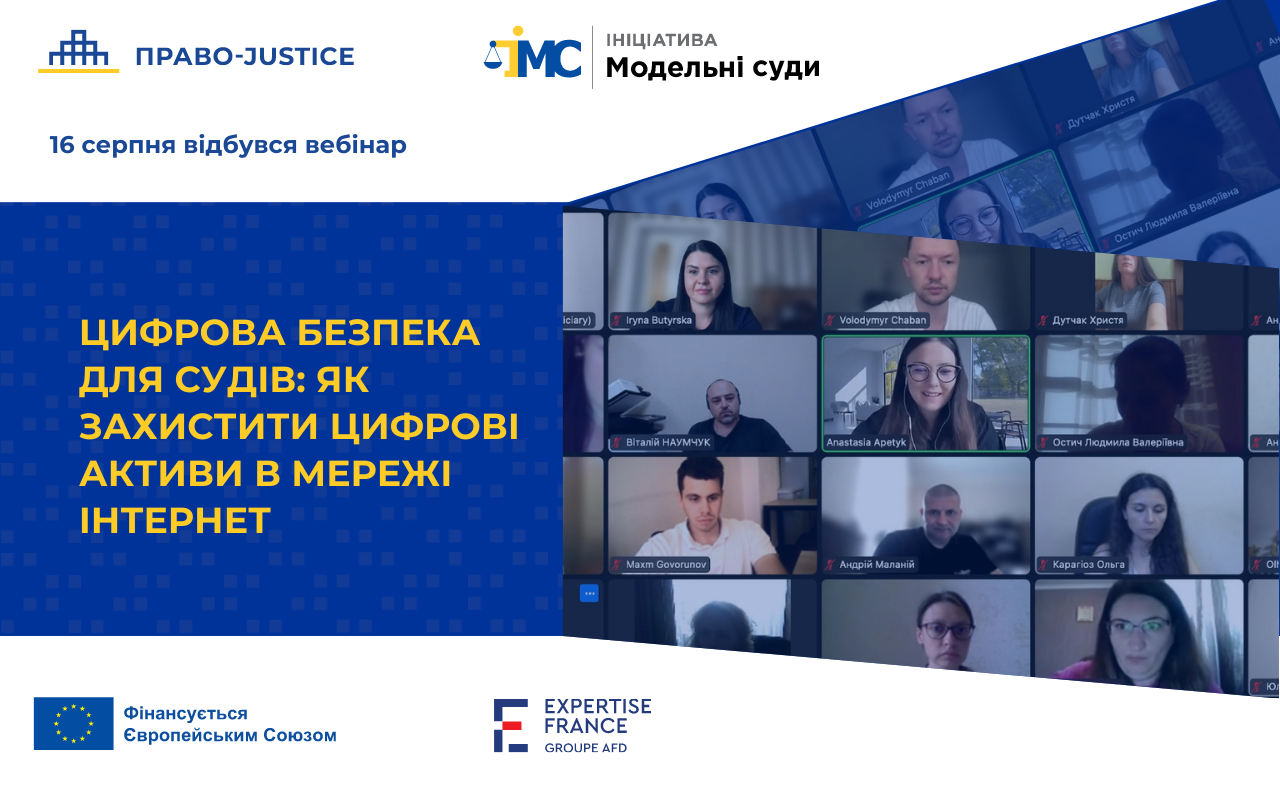 On August 16, the EU Project Pravo-Justice held the webinar "Digital Security for Courts: How to Protect Digital Assets on the Internet" for employees of the court apparatus. The event took place within the framework of the Model Courts Initiative.
Anna Adamska-Gallant, Key International Expert, Judiciary Component Lead, EU Project Pravo-Justice, opened the webinar. She noted, in particular, that that was the second event dedicated to the digital security of courts, which was a topic that had become particularly relevant in the conditions of martial law.
"We continue highlighting the issue of digital security for both judges and court staff. After all, the court system is an active user of digital technologies that have helped ensure citizens' access to justice despite the destruction of court premises. However, court staff members shall be vigilant and aware of risks and algorithms to be applied in case if any danger the aggressor may commit has been detected. This is the knowledge we would want to share with our colleagues," said Anna Adamska-Gallant.
Anastasiia Apetyk, National Expert of the EU Project Pravo-Justice, lawyer, online security consultant, covered the basics of digital literacy with an emphasis on the work of the court staff.
The lecturer explained how to act if e-mail was hacking detected; explained the algorithm of actions when detecting digital threats, the rules of pass-wording and two-step verification; she also shared practices of online account protection standards.
"A lot of digital threats also come from the aggressor state, because cyber-attacks are part of the war. That's why one should be very careful about emails that come to one's email box, because the enemy uses phishing emails to get access to sensitive information," stressed Anastasiia Apetyk
Among other digital threats that are relevant to court employees, the lecturer listed: open Wi-Fi, spyware, use of flash drives, and low level of awareness about password protection etc.
The lecturer also developed on free-of-charge educational opportunities relating to the topic of digital literacy, which are available to employees of the court apparatus.